28
Sep
5 Factors that May Affect Catering for Your Event
When hosting events, we aim to create an enjoyable environment for our guests. Many factors go into making any event an unforgettable experience, but one of the most important is the food and catering services used. The best catering companies in Toronto allow event hosts to relieve some of their planning workload, leaving menu management and curation in the hands of our experienced and capable caterers. This is especially helpful for corporate office catering in Toronto, where event managers are often busy with the demands of their job. At Smokin Bones, we support your events to bring you high-quality and reliable catering in Toronto and throughout the Greater Toronto Area. From weddings to office catering in Toronto, call Smokin Bones to create an unforgettable culinary experience.
Read on to learn about some of the common factors that can affect your event's catering needs.
The Type of Event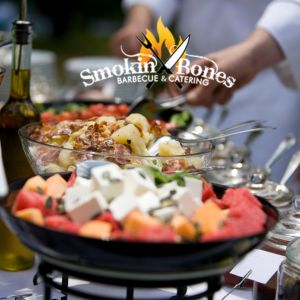 At Smokin' Bones our caterers in Toronto offer service for virtually every type of event. Our high-quality drop-off catering, sandwich catering, and hot lunches are well-suited to meetings or general days at the office. Whereas our live barbecue catering is a spectacle that dazzles and impresses for employee and tenant appreciation days, and other special events. With the holidays fast approaching, Smokin' Bones also provides high-quality Thanksgiving and turkey catering in Toronto for every event. When you're working with a well-rounded catering company in Toronto like Smokin' Bones, you can be confident that we can provide the services needed for your event style.
The Number of Confirmed Guests
How you serve your guests and how much you provide is directly related to the number of guests who have returned their RSVP. An approximate headcount helps to determine the serving style of your catering and your menu. Catering companies in Toronto often have recommended serving styles that pertain to the size of your guest list. For more intimate gathering or office catering in Toronto, you may opt for individually portioned meals or for larger events, buffet style serving can be better suited.
Buffet Style: this style may be used for a bigger crowd, perhaps a more casual event. This way, caterers create significant portions to feed everyone attending, even with last-minute changes.
Family Style: this method is excellent for smaller gatherings. It's a great way to create interaction opportunities, as these settings tend to be more intimate.
Plated Style: this method creates a more uniform setting, typically used in weddings.
Dietary Restrictions
The dietary requirements of your guests play a crucial part in a successful event. Many hosts will survey their guests, or space is provided on RSVPs to indicate any allergies or preferences. Smokin Bones provides flexibility for allergies like nuts or dairy and restrictions such as halal, kosher, vegan, gluten-free, and many more. This is the importance of consulting with our clients in the event's planning process.
Time of Year of Your Event
Seasonality plays a significant role in catering an event. Through the seasons come different holidays, which can affect the quality of produce. With that being said, certain menu items are designated for certain seasons. Consult our staff today to find the best menu for the season.
Your Venue
When planning an event, the venue can make or break the event. Preparation for the event typically takes place at the event. A kitchen is a crucial part of preparation for catering; therefore, if there is no kitchen at the venue, you must make alternative plans with your catering company.
Cater your Next Event with Smokin' Bones
Leave catering services in the hands of Smokin' Bones. We offer a wide range of options from menus to service styles. Contact Smokin Bones to explore the many available menus and plan your catered event.