Smokin' Bones Barbecue & Catering: The Ultimate Company for BBQ Catering in Toronto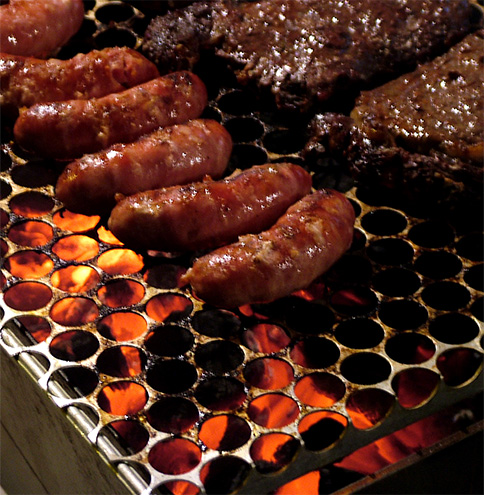 Smokin' Bones BBQ Catering caters all kinds of outdoor events in the Toronto Area, from large BBQ catered corporate barbecues in Toronto, school barbecues & weddings, to smaller, more intimate, backyard barbecues, cocktail & dinner parties. We are an event catering company who offers on-site BBQ catering services and specializes in corporate BBQ catering and BBQ wedding catering at many venues across the Greater Toronto Area.
Why is everyone talking about us? We think the answer lies in our commitment to service & quality, while working with anyone's budget - proven by the countless testimonials showered upon us by past clients. Our staff, our food preparation and presentation, our style and - oh so important - our attention to detail, raises us a cut above other caterers. We create party experiences that are talked about for many weeks afterward.
BBQ Catering in Toronto Like You've Never Seen Before
Tired of the same old type of catering you've experienced at every event? At Smokin' Bones BBQ Catering, it has been our mission to spice things up with all types of BBQ foods for all types of events at affordable costs. We aim at giving you and your guests more than just a dinner, but an experience. We push the boundaries with our vast menu that includes a variety of BBQ foods. The best way to stand out and wow your guests is to give them the ultimate BBQ catering in Toronto experience.
Say goodbye to boring appetizers, mains, and desserts. At Smokin' Bones Catering, we have the means and resources to get everyone excited and even offer à la carte menu options!
Learn More About Our Toronto Catering Services
So are you looking for some outdoor cookin'? Ready to have a Smokin' good time?
We are not just your ordinary company for BBQ catering in Toronto. We care about our customers and their events. We want you to have the best experience possible and the only way to achieve this is to ensure the best food possible. After all, we all know that the food is the most important part of any event. For any event to be a true success, the food needs to satisfy each and every guest.
Our dedicated team will do everything from planning and set up to serving and clean up. We can even supply your entertainment for the night! You won't even have to lift a finger! All we want is for you to enjoy your event with food that everyone can appreciate. We have tons of food options to accommodate versatile appetites, picky eaters, kids, and dietary restrictions (kosher, gluten free, dairy free, allergies, vegan, halal etc.). From BBQ back ribs and fish to roast beef brisket and fire roasted chicken, there is always an option for every type of eater.
Book Smokin' Bones for BBQ Catering in Toronto
We cater to all types of events including weddings, corporate events, school events, and even holiday dinners. No matter the event, the cost of our catering services can be adjusted to fit your budget. We service many parts of the Greater Toronto Area including North York, Vaughan, Thornhill, Durham Region, York Region, Milton, Mississauga, Brampton, Burlington, Oakville, Richmond Hill, Markham, Aurora, Newmarket, Georgina, Oshawa, Whitby and more. Contact us now and stop worrying about your event. We'll make sure it's a success. Book now for BBQ catering Toronto deserves.
---
OUR RESPONSE TO COVID-19