The Best Catering Company In Toronto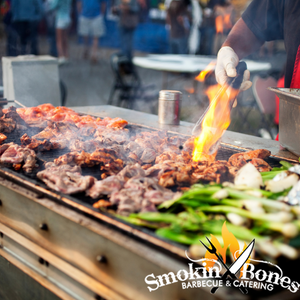 At Smokin' Bones Barbecue Catering we can provide whatever is needed for any form of outdoor event - from corporate matters, to wedding celebrations, to cocktail parties, and cozy backyard barbecues. Along with our famous barbeque menu, we now have partnered with Catering Magic, a deli and gourmet sandwich platter company, to provide the best array of options for you. We design unforgettable festivities and get-togethers with tasty food that will have your guests coming back for more! When it comes to the best BBQ catering in Toronto, Smokin' Bones combines the best in service and food to satisfy even the most challenging occasions!
We have created our success with the most qualified staff, expert food prep, and a presentation that goes above and beyond our competitors. For the best catering in Toronto, Vaughan and GTA, our clients regularly trust our packaged deal approach, including a wide range of menu options, highly skilled servers and even bar service, if that's what you are looking for.
We cater to all types of occasions and social gatherings
Smokin' Bones provides the best barbecue catering in Toronto, Vaughan and throughout the GTA. Beyond tasty food and the best in service, we have many happy clients who have shared excellent reviews. Our customers range from corporate to private and have an extensive variety of food favourites - everything from steaks to burgers, to chicken, to vegetarian options and speciality dishes.
We cater to both large and small desired events and are highly equipped to manage every piece of a fully catered experience.
Some of those include:
Cocktail parties

Engagement and wedding celebrations

Corporate barbeques

Staff gratitude events

Back to school or start of summer barbeques
While we want every event to be fun and engaging, there's always a need for preparation and implementation. For BBQ catering in Toronto, Smokin' Bones will provide the full service package – at any venue, small or large, inside or outside. Our catering experts will bring it all together efficiently and with no stress for all involved. Clients have the opportunity to choose from an assortment of set menus or a customized approach. Most importantly we make it suitable and useful for all of our costumers.
The full-service approach from Smokin' Bones
Whatever the scope of the event, our catering team provides a high quality and level of service, and will acclimate any and all special dietary requests that include vegetarian, ethnic and gluten-free foods.
With our full service approach the sky is the limit! We can organize tableware, glassware, rental furniture and servers. We will work within your budget and promise to not have any hidden charges later. We are upfront from the start to make sure you always have a positive, and wonderful experience with us.
At Smokin' Bones, our staff are always motivated and committed to give the best in service and quality food for your next event! For the best BBQ catering in Toronto, contact Smokin' Bones BBQ Catering directly at 416-888-6458. Or send us a message to inquire more about our catering services in Toronto.