Easter Dinner Catering Services In Toronto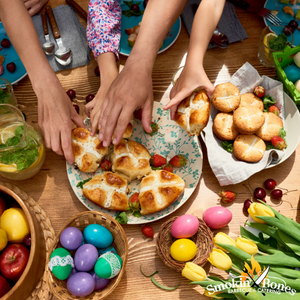 Easter is a time when families and friends come together to share one of the most important meals of the year. If you're looking for Easter dinner catering services in 2022, then look no further than Smokin' Bones. We are a bbq catering company in Toronto that offers a wide variety of delicious Easter bbq catering options to fit your tastes and budget. ​​From our classic Smokin' Easter BBQ Platter to our more contemporary & creative options, we have something for everyone.
The Caterers That Go A Step Above
At Smokin Bones, we understand how important Easter is to our clients. We have been catering Easter dinner for over ten years and go above and beyond to make sure the food is perfect. Our menu features traditional Easter fare such as roasted lamb, honey glazed ham, and green beans with lemon butter. We also offer a variety of side dishes and desserts to choose from. Our services are available in both small and large packages so that we can cater to any size party.
Easter Just Got Easier
Easter is a holiday that's all about spending time with family, and we understand how important it is to have the perfect meal to share with the people that you love. But sometimes, preparing a complicated Easter dinner can be exhausting, especially when you have a full work schedule and house to maintain.
That's why this year, Smokin' Bones BBQ Catering has come up with an easier way for you to get a delicious Easter dinner delivered straight to your door for you and your family. Contact Smokin' Bones BBQ Catering today to find out more about our delicious Easter Dinner delivery service.
Easter Dinner Catered by Smokin' Bones BBQ Catering
With Easter just over a week away, you're likely scrambling to find the perfect centrepiece for your table, flower arrangements for the church or a gift for your Easter basket. But that doesn't mean you can't stop enjoying a little Easter dinner with the family.
For those looking to give their family the perfect way to celebrate Easter, Smokin' Bones BBQ Catering offers Easter dinner catering in Toronto that is sure to fill everyone's bellies and make the holiday extra special.
Get The Best Easter Dinner in Toronto
At Smokin' Bones BBQ Catering, we believe that the most delicious meals are those that are shared with the people you love. That's why we have put together a special Easter Dinner Catering Menu, filled with some of our signature BBQ recipes. From fresh ingredients to creative twists on traditional dishes, these recipes are sure to make your next Easter celebration something to remember.
Smokin' Bones BBQ Catering is your best choice for a catered Easter Dinner in Toronto. To learn more about our BBQ catering services or to book your next event, contact us today!