02
Apr
Choose Smokin' Bones BBQ Catering This Easter!
Spring is nearly here, and you know what that means: we're getting ready to gather the family for an Easter Dinner! Of course, for such an event, food is going to be a significant component of the celebrations which means you are probably scrambling and searching for "easter dinner catering near me" or "easter dinner catering 2022". Well, we have good news for you! If you are looking for a delicious catering option for your Easter dinner this year, Smokin' Bones BBQ Catering is the best choice for you! Having your Easter Dinner catered by Smokin' Bones, BBQ Catering Company will offer various food options that anyone can enjoy, bond over, provide delicious drinks, and provoke fun conversations.
Invite All Your Loved Ones Without Breaking The Bank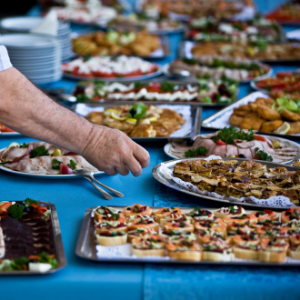 With the pandemic behind us and it being finally safe to gather with friends and family, you might want to invite more guests. Having a catered BBQ Easter Dinner is a fantastic way to create a unique and memorable experience for your guests and get the best bang for your buck!
By opting for BBQ Catering Services In Toronto from Smokin Bones, you can offer your guests an amazing experience, delicious food, all while staying within your budget!
Care Free Hosting
Entertaining family and friends at Easter has never been so easy. Simply dust off the patio chairs and get ready for some backyard fun because Smokin Bones will take care of the rest!
We create a memorable and enjoyable catering experience for our clients. In partnership with our sister company, Catering Magic, Smokin' Bones Caterings can do more than just offer a full menu spread for your event.
From start to finish, we can help you plan your entire event. We can help set up tableware, ensuring enough seating for all guests. We can help set up your dinner presentation, including the option for us to provide serving trays, utensils, glassware, and cooking equipment. We can even handle the decorations and help source florals for an upscale affair!
Easter Dinner Catering
Easter is a time to celebrate with family and friends, and the best way to do so involves mouth-watering meals. Our Easter dinner catering 2022 menu combines succulent smoky BBQ flavours with traditional Easter favourites for a meal your guests will love. And the best part is, you don't even have to lift a finger. From preparation to delivery, let us do all the work for you!
We take complete care of your Easter dinner from start to finish!
We cook everything on site, avoiding any chance of the food going cold before it's served.
We offer a wide range of Easter dinner catering options. Whether you want to hold your Easter dinner at your home, office or at one of our locations, we can accommodate your request and customize a package that meets your budget.
Our catering packages include a wide range of dietary considerations and allergies.
Delicious Food
Smokin' Bones offers delicious Easter menus that can offer something for everyone. When it comes to BBQ catering, we only use the best quality meats, seafood, poultry, and produce. Our Easter dishes are all about fresh seasonal flavour and quality bbq.
Our barbeque is one of the Best in Toronto. Our roasts are smoked for hours over local hickory wood—trust us, it's the most fantastic BBQ you'll ever taste! And when it comes to the sides, all your Smokin' Bones BBQ food favourites are available. From green beans with bacon to our seasonal favourite brisket!
Choose from one of our pre-arranged menu packages, or let us help customize and build your own menu. No matter what you are looking for, from elaborate appetizer menus, niche cuisines, or simple casual finger food menu options, Smokin' Bones can cater it all. All of our menus were created to allow quick changes to cater to any dietary restrictions without compromising on taste.
An Enjoyable Easter Dinner
When you think of BBQ food, the picture of a super messy meal might come to mind. Smokin' Bones Catering is changing the way you think about BBQ catering. We specialize in catering BBQ events that offer delicious food and engaging atmospheres.
We offer event staffing for large events, helping to minimize your stress during the event. Smokin' Bones is proud to provide friendly and trained staff, from talented chefs to professional servers. Want to bring a touch of luxury to your event? Smokin' Bones offers the additional option of valet parking staff.
Of course, a fun atmosphere isn't complete without music or entertainment. Smokin' Bones can help provide the entertainment and equipment to make your event one to remember.
Choose Smokin' Bones BBQ Catering This Easter
If you were dreaming of delicious bbq for your Easter dinner, we've got good news for you! Smokin' Bones is open and smoking, and we'd be honoured to cater your Easter Dinner Event.
For delicious BBQ and expert catering, visit our website to get a quote or call 905-508-2665 to inquire about our services