$21.95 - 29.95
SOLD OUT!!!

Holiday Turkey Dinner Catering
Our Holiday Menu packages take inpiration from some of the classics. Imagine a complete turkey dinner with all the traditional fixin's.
(Presented in Foil Trays, Warming Instructions Available)
'Tis The Season
21.95

(Min. 20 servings - increments of 5)
Roast Sliced Ontario Turkey, both dark and white meat

Apple and Sage Stuffing
Our Signature Giblet Gravy
Citrus Cranberry Compote
Yukon Gold Mashed Potatoes
Honey Glazed Baby Carrots & Buttered Green Beans
Fresh Baked Dinner Rolls with Butter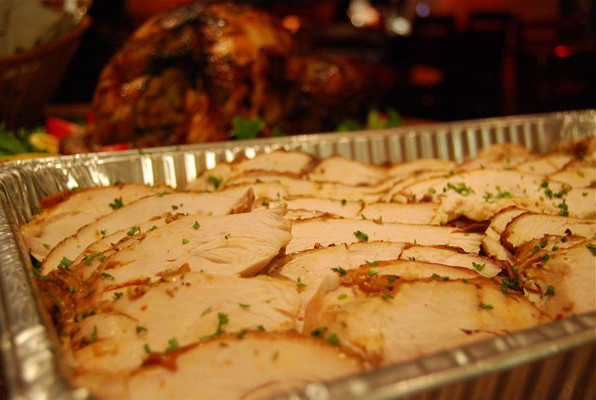 Feast of the Season




18.95



(Min. 10 servings - increments of 5)

Season of Giving
25.95

(Min. 20 servings - increments of 5)
Season of Joy
29.95

(Min. 20 servings - increments of 5)
Smokin' Bones gets the big thumbs up for turkey dinner catering
Comfort food has always been a mainstay on menus during the holidays for families but the trend lately is to serve classic comfort meals at events, dinner parties and corporate gatherings. Smokin' Bones offered turkey dinner catering in Toronto last Thanksgiving and saw a high demand. Corporate event organizers gave Smokin' Bones a satisfying thumbs up and their complete dinners were given rave reviews for taste, quality, service and experience.
Smokin' Bones will offer more complete turkey dinner packages this season in Toronto as well as Oshawa, Burlington, Peterborough, Vaughan, Richmond Hill and also specializes in catering events in Muskoka's cottage country.
Entertaining in the city has never been easier
Living in a big city has its advantages and those that appreciate finer dining experiences have a full agenda in Toronto and the GTA. Hosts and hostesses that put together events, dinner parties and other dining functions have a wide array of choices for a full service event but to truly stand out among other parties, organizer's should think outside the box and look to a classic comfort food to showcase their next corporate or family get together. Turkey dinner catering in Toronto is the next big thing on the event circuit.
Full service event services means less work for hosts
Organizing a dinner party or event can be a stress free experience for the host. Smokin' Bones is the best for turkey dinner catering in Toronto and can provide a complete dining experience. Tables and chairs, full bar service, wait staff, plates and cutlery and of course the food can all be provided creating an amazing turnkey event for your social calendar. From buffet style to full white linen table service, Smokin' Bones will set up your event to your exact specifications and their experience in catering full service meals ensures a top tier experience for the guests as well as the hosts! Event clean up can be taken care of by Smokin' Bones delivering and end to end entertaining experience.
Smoking Bones is the premier full service provider for complete turkey dinner catering in Toronto
Organizers and hosts who want to stand out and depart from convention should consider a complete turkey dinner by Smokin' Bones. Serving delicious and savory turkey with everything guests would expect including stuffing, cranberries and all the side dishes will make your event one to remember. Smokin' Bones can create the perfect evening for your event and handle all tasks including set up, food service, bar service and complete function clean up and take down. Smokin' Bones has consistently delivered the best food and service at events throughout the GTA and surrounding areas. Visit our website at www.smokinbonesbbqcatering.com and fill out our form for a free quote for your next turkey dinner! If you're looking for some delicious cookin' you've come to the right place!
The Classic Turkey Dinner becomes the latest entertaining trend
Looking for a way to incorporate Grandma's home cooking skills into your next Christmas, Channukah, or any Holiday event, but don't feel like cooking? Then call Smokin' Bones for a delicious turkey dinner catered meal. We don't want to boast, but we've been told our turkey and stuffing keeps you coming back for more!
Not overly complicated and definitely the most satisfying, turkey dinner catering in Toronto is the latest "in thing"; a truly memorable and unique experience that your guests will rave about. Available for pick-up, delivery, or full service where we take care of everything.
CONTACT US TO RESERVE NOW