12
Mar
5 Reasons To Choose BBQ Caterer For Your Next Event
Whether you're hosting a corporate event, a family event, or your own celebration, there is always a long list of logistics to figure out. You have to decide on a location, menu, theme and budget. With Spring quickly creeping upon us, BBQ season is also approaching, and it's now the time to plan and book your next BBQ event. For BBQ catering services in Toronto, Smokin Bones has you covered, not convinced yet? Read on to find a few reasons why you should choose BBQ food delivery and BBQ catering services for your next event.
There's something for everyone.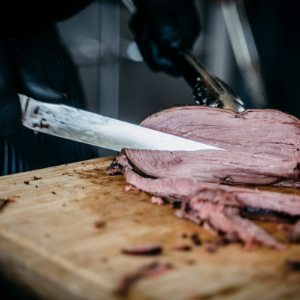 With many different options to choose from, a BBQ event is a perfect way to provide a diverse menu that includes options for everyone. One of the most complex parts of planning an event is figuring out a menu that suits everyone's needs. You must consider vegetarians, gluten-free individuals, meat lovers, health-conscious and more. With Smokin Bones' BBQ catering services, there's an option for everyone. From burgers and hot dogs to pulled pork sandwiches, vegetarian options, and salads. Our menu is both delicious and well-thought-out. Some of our more popular menu options include the "Memphis Griller," the "Orginal Southern BBQ," "Ranchhand Roundup," and "All You Can Eat & Drink Chuckwagon Feast," visit us online to see the menu options in more detail.
A theme in itself
With BBQ catering services, your theme is already planned and chosen for itself. We aim to provide a service that's more than just BBQ food delivery, but an experience your guests will be raving about for years to come. Our BBQ event comes fully versed with on theme table cloths, decorations, games and more. Whether it's an outdoor or indoor event, we will adapt to create and plan you the perfect event for.
An Affordable Option
Like any planned event, costs can add up quickly. But BBQ catering is an affordable way to have good food at a great price. Each menu option prices vary depending on the type of food, meaning there's an affordable option for everyone.
A Unique Event
Looking for a way to provide a unique and fun event for your staff or friends and family? Our events always offer a good time that isn't like any classic event. Not only do our BBQs feel unique, but they can also feel like a luxury. Our chefs are experienced and well versed in all things BBQ feasting. You can count on our team to provide a meal you and your guests won't forget about. We have experience catering to weddings, company picnics, staff appreciation BBQs, corporate dinners, holiday catering & more.
Versatility
The best part about a BBQ-themed event is it's versatile. Whether you're looking to host a lunch, dinner or mid-day event, we have you covered. Can't decide between an indoor or outdoor event? A BBQ event works well any way you want it. We can work together to develop a plan that is exactly what you've been looking for.
Smokin Bones for Your Next Event
Whether it's a small, medium-sized or large event, family gathering, or corporate meeting, our BBQ catering service is a perfect choice. Smokin Bones has helped families and businesses alike host the perfect event for many years. Let us focus on the logistics, and you can focus on your event. We will help set up, plan and decorate to ensure everything goes as plans. You won't even have to lift a finger!
Good food and good times are what we want for you. All you have to do is let us know which meal options you prefer, and we will take care of the rest. Ready to book your BBQ feast? All you have to do is visit us online or give us a call for more information.
With COVID-19 orders still in effect, we can assure you we are taking all the safety precautions necessary to ensure a safe event. Our team places a strong emphasis on proper sanitization practices, as well as enhanced cleaning protocols. Any member of our team will not be attending an event if they feel sick. If you have any questions, please do not hesitate to reach out. We guarantee a safe, exciting and delicious event!