30
Aug
All the Details You Should Provide Your Caterer for the Best Event
Planning the menu for an important event can quickly become very stressful, very quickly. With everyone's dietary restrictions and personal preferences, choosing what food to serve at an event can be challenging. When selecting the best catering services in Toronto, you'll want detailed menus, delicious food, and accessible booking options. If you're interested in high-quality barbecue catering, Smokin' Bones has various package options that will streamline event planning. Working with our team, you can throw the best event imaginable.
Read on for all the details you should provide your caterer for the best event.
Details You Should Provide Your Caterer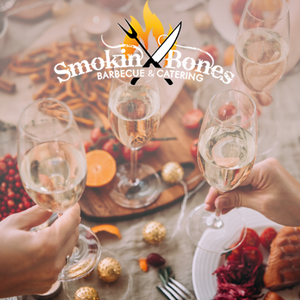 Usually, the most overwhelming part of planning an event is organizing the food. From food options to allergies, there are many things you need to think about before the big day. To get the most out of your service, you should provide your caterer with thorough information about the event. Doing so allows the caterer to vocalize anything they aren't able to do and to prepare accordingly. Smokin' Bones Barbeque catering offer many meal options for those with allergies and dietary restrictions so that everyone can enjoy the mouthwatering food.
Your Event Date: The first step you should take is to tell your caterer the event date to see if they can accommodate your requested date. If you are unsure about the exact date, it's better to provide a rough estimate, such as the intended month, season, or holiday.
Guest Count: Along with the date, providing the number of guests is essential when booking the best catering services in Toronto. At Smokin' Bones, some menus require a minimum number of people. For example, some menus have a minimum of 40, 60, or 120 people.
Location: Informing your caterer about the location of your event is another crucial element in planning your special day. The professionals at Smokin' Bones cater to Central Toronto, West of Toronto, North of Toronto, and East of Toronto.It also helps to know whether your event will be held in an indoor or outdoor venue, so the proper equipment is brought.
Type of Event: Telling your caterer the type of event you're having is another critical step of the planning process. Whether your event is formal or informal, you want barbeque catering or a dessert menu, Smokin' Bones Barbeque Catering have what you need to provide your guests with flavoursome food.
Menu Restrictions: If you and your guests are fans of hamburgers, veggie burgers, ribs, corn, salad, and more, look no further than Smokin' Bones Barbeque Catering the best barbeque catering services. We offer various types of barbeque packages as well as kids, holiday, and dessert menu options.
Budget: When budgeting for your event, it's always important to ask if there are additional charges and fees such as cutlery or plates. Smokin' Bones offers several menu and pricing options so you can decide based on your personal budget. In addition, we also have a minimum spend for some menus.
Choose Smokin' Bones Barbeque Catering for Your Event
If you want all of your guests to love the food and service, choosing Smokin' Bones Barbeque Catering is your best option to impress the crowd. With numerous flavourful menu options and prices, you have control of the food and service from start to finish.