17
Feb
Are BBQ Food Trucks Open For Business?
The light at the end of the tunnel is near, and Toronto's lockdown is slowly easing its restrictions. While we still need to be cautious, with the restrictions being lifted comes more opportunities to thank your employees for all their hard work this past year. Smokin Bones is now offering food truck BBQs that are open and ready to operate all over the greater Toronto area! What better way to thank your employees than a catered food truck BBQ. Now you know the food is taken care of, but how do you plan a COVID-friendly event? We're here to help.
Choose Your Theme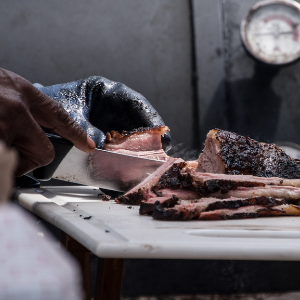 A corporate BBQ theme is the easiest way to give your employees an event that is put together caters to delicious food but is still on the casual and on the more affordable side. If your office location is in a large building, you can arrange a lunch-time food truck where each floor or team is given an allocated time to enjoy a delicious meal.
Pick a Time and Day
Company events are always best received toward the end of the week. Employees feel hopeful and excited for the weekend to come, and what better way to end off the week on a good note than with a yummy BBQ feast. We recommend a Thursday or Friday at lunchtime. It gives your employees something to look forward to, AND they don't have to worry about buying or bringing their own lunch on those days.
Pick a Location
With COVID, there are still restrictions on where you can host your event. But luckily, with food
trucks, they can drive to any location of your choosing. Whether you work in a large office building downtown or a smaller office building in the suburbs, you can order a Smokin Bones BBQ food truck right to your front door! It's as easy as that.
Entertainment
Although entertainment options might be limited, something as simple as having a DJ or live singer is a COVID-friendly way to create a fun and light atmosphere.
Hire a Food Truck Caterer
Smokin Bones is a one-stop-shop for the best food truck bbq catering in Toronto. With a wide variety of menu options to choose from, every employee will find something they like.
Smokin Bones for Your Catered Food Truck BBQ Event
When it comes to catered BBQ events, Smokin Bones doesn't fall short. Our BBQ food trucks are the perfect way to thank your employees for all their hard work with a delicious meal. Whether it's burgers and hot dogs, or brisket and ribs, we have many options to choose from, along with delicious sides and desserts. There will be something for everyone. Let us do the work, and you can focus on hanging out, enjoying yourself and connecting with your employees. Ready for your catered BBQ? You can visit our website online or give us a call at 905 508 2665 to learn more!