21
Jul
Awesome BBQ Catering Ideas For Your Engagement Party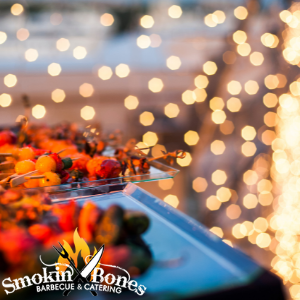 An engagement party is meant to be a fun opportunity to bring both sides of the family together, eat and drink with friends and create meaningful memories. Choosing BBQ catering services in Toronto from Smokin' Bones is a perfect way to ensure your engagement party is chill and full of delicious food offerings. With over 10 years of experience in the wedding catering industry, we will work with you to plan your perfect pre-wedding engagement party barbeque.
Going into 2021, BBQ catering services in Toronto are extremely popular for engagement parties and rehearsal dinners. In 2019, BBQ catering was the number 1 choice for wedding catering! Why not follow the trend? Keep your catering costs in the affordable range while still providing a variety of high-quality, mouthwatering food menu options.
Torontonians Love BBQ Catering
BBQ catering is always a crowd-pleaser. Why? Because our catering menu offers a wide variety of selection! In 2021, booking a catering company in Toronto can provide you with enough flexibility to accommodate gluten-free, vegetarian and/or lactose intolerant guests.
When you choose catering services in Toronto from Smokin' Bones, you are hiring a catering company to work with you to build a bbq catering menu that ensures there is a little something for everyone on the menu! Smokin' Bones has some of the best classic barbeque meats available! We have numerous sides to choose from, like the traditional coleslaw, baked beans, corn on the cob, roasted potatoes and more!
Check out our website to see what our customers have to say about our wedding catering services!
DIY BBQ Or Hire Smokin' Bones Catering Services In Toronto
If you want to give your guest the best possible wedding catering experience, then you most definitely need to hire professional catering services from a company like Smokin' Bones. By hiring a wedding catering company, you have time to actually enjoy your engagement party and mingle with your guests. From grill preparation to after food clean-up - you can trust Smokin' Bones staff to deliver a perfect engagement party.
Flexibility With BBQ Wedding Catering
The best part about BBQ wedding catering? You have the option to dress it down or dress it up! Keep it a relaxed setting, with food stations where people can customize their plates and build-your-own burgers. Or you can class it up by making it a sit-down occasion!
Time It Right
When you choose to hire professional catering services in Toronto, you will want to make the most bang for your buck. Timing your engagement party right so that your guests are hungry at your engagement party. Smokin' Bones can plan the timing of appetizers, sides, the main course and dessert to ensure your guests have time to digest but are never "waiting" to get more food.
Keep The Decor Simple
BBQ events have their own vibe, so you shouldn't feel the pressure to create an over-the-top decorated party. A little decoration is all you need for an engagement party, and Smokin' Bones can help you with that!
Thanks to our sister company we can offer complete services event coordination. We can coordinate decor, string up lights, add some tables and chairs with centrepieces, and even supply the music! You just need to take care of getting your guests to the location!
Contact Smokin' Bones today to learn more about our bbq catering services and wedding catering packages available in Toronto & the surrounding areas!