22
Feb
Benefits of Buffet Catering Services for You Event
Depending on the venue and reason for hiring catering companies in Toronto, there are a few options you can choose from to determine how your food is served, including platters, drop-off catering, boxed lunches, served meals, and buffet catering. Buffets, a popular catering service in Toronto, offer many benefits for organizers and their guests. Smokin' Bones offers high-quality catering services in the Toronto area for office catering, special events, community events, and much more. To learn more about our services and explore the benefits of buffet catering, read on.
Establish a Social Atmosphere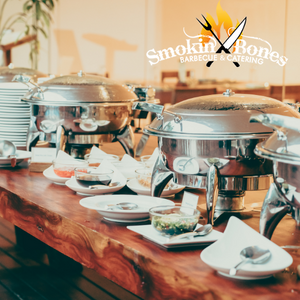 Buffet-style catering service in Toronto is a great way to enhance the social atmosphere of an event. With a buffet, guests are encouraged to move around, mingle, and interact with one another. At the same time, they serve themselves food, creating a relaxed and informal atmosphere where people feel comfortable and at ease. The self-serve nature of a buffet also allows guests to control their own food choices, pacing, and portion size, leading to a more personalized dining experience. Additionally, the visual display of food at a buffet often acts as a conversation starter, with guests discussing their favourite dishes and trying new things.
Flexible Serving Style
With buffets from catering companies in Toronto, guests can serve themselves, allowing them to choose what they want to eat and how much they want to have. This is particularly important for events where there are guests with different tastes, dietary restrictions, or food allergies. A buffet can easily accommodate a variety of dietary needs, with options such as vegetarian, vegan, gluten-free, and nut-free dishes available. Additionally, the self-serve nature of a buffet also means that guests can come and go as they please, making it a convenient option for events where guests are arriving at different times. Furthermore, a buffet can be easily scaled up or down to suit the needs of each event, making it a highly versatile option for any occasion.
Accommodate Various Meal Schedules
In an office setting, employees may have different schedules and break times, making it challenging to coordinate a sit-down meal that works for everyone. With buffet-style office catering in Toronto, each member of your team can serve themselves and eat at their convenience, whether they are on a tight schedule or have a more extended break. Additionally, the self-serve nature of a buffet also means that employees can move through the line quickly, reducing wait times and maximizing the amount of time available for eating. Furthermore, a buffet can be set up in a convenient location that is easily accessible for employees, eliminating the need for them to travel to a separate dining area.
Buffet Catering Services in Toronto
Smokin' Bones is a leading catering company in Toronto with years of experience serving delicious meals for various events. From leading barbecue catering to sandwich platter office catering, Smokin' Bones uses high-quality ingredients and services to deliver exceptional results at great prices. Start planning your next event with the best catering options at Smokin' Bones.