20
Sep
Benefits of Sandwich Platter Office Catering
Whether you are hosting a book club or a team meeting, finding the perfect menu for your event or get-together can be quite challenging. Even if you decide on a cuisine, like barbeque catering, accommodating your guests' many food preferences can be overwhelming. To make serving good meals as easy and accessible as possible, the best catering company in Toronto provides a vast selection of options to meet your needs. Smokin' Bones offers high-quality, tasty sandwich platters that are perfect for versatile events.
Here are the reasons why people love sandwich catering in Toronto from Smokin' Bones.
Easy to Eat & Distribute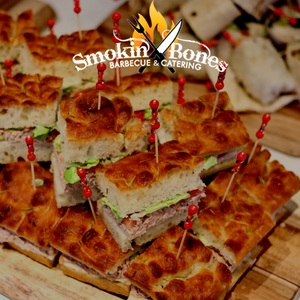 Whether you're having a staff meeting, inviting clients and vendors to the office, or showing the team your appreciation. Sandwich catering in Toronto consists of platters that make it easy to distribute delicious barbeque catering because they are already prepared in individual portions. Handheld food options like wraps and sandwiches demand less formality making it easy for everyone to grab the sandwich that catches their eye and eat conveniently without a knife, fork, and elaborate place setting while still delivering on taste.
Variety & Selection
At the office, everyone has varying food preferences and restrictions due – whether they're vegan or lactose intolerant. As one of the best catering companies in Toronto, Smokin' Bones provides a range of platter options that accommodate varying palettes and lifestyles. You can choose from classic deli sandwich platters with tuna, veggie, ham, wraps with traditional barbeque catering fillings, or gourmet platters with premium fillings, cheese, and more. All your platter options at Smokin' Bones also come with a house salad and dessert.
Accommodate Large Groups
When you're running an event, one of the worst things that can happen is running out of food. If you're treating your team, ordering sandwich platters is to ensure there is enough food for everyone who will be in attendance. Compared to other meal options like rice or pasta, sandwiches are incredibly easy to count, so you can easily compare your order quantity to your guest count. Our standard sandwich platters serve a minimum of 20, but your order can be increased for as many people as you need.
Perfect for Seconds
While we offer delicious hot sandwich options, a favourite for busy work days is the classic deli platters and wraps with cold fillings. The deli meats and cold fillings in these sandwich platters make going for seconds later in the day easy. Classic deli sandwiches retain their taste and quality throughout the day and even out of the fridge, so if you have leftovers, they'll be good later in the day, minimizing waste.
Sandwich Catering from Smokin' Bones
Smokin' Bones sandwiches are a great option if you're looking for a tasty and thoughtful way to treat your team or serve your guests. Choose from an array of delectable menu options and stay full all day.
Talk to our expert catering team today to learn more about our barbeque catering options and sandwich platters in the Greater Toronto Area.