10
Mar
Celebrate Easter in Style with Office Catering in Toronto
​​Easter is a special time of year, a time for joy, new beginnings, and gathering with loved ones. Whether you're planning an office party or a team lunch, one of the best ways to make your Easter celebration truly memorable is by using high-quality catering services in Toronto. And if you're in the Greater Toronto Area, you're in luck because the Smokin' Bones team of caterers in Toronto offer exceptional catering services that will make your event, one to remember.
Read on to learn why Smokin' Bones are the best caterers in Toronto for your office Easter celebration.
Quality Catering Services in Toronto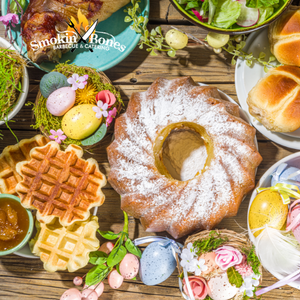 One of the main reasons to choose caterers in Toronto for your Easter celebration is their exceptional quality. At Smokin' Bones we only use the freshest and highest-quality ingredients sourced from local farms, markets, and artisanal suppliers. Our skilled chefs then craft these ingredients into delicious and innovative dishes that will delight your guests' senses and leave a lasting impression. From classic Easter dishes like glazed ham and roasted lamb to creative options like spring salads and fruit tarts, Toronto caterers have something for everyone.
Flexible Catering Services to Meet Your Needs
Another reason to choose Smokin' Bones is our flexibility. We understand that every event is unique, so we provide a wide range of catering services in Toronto to meet your specific needs and preferences. Whether you want simple drop-off catering or a full-service event with setup, service, and cleanup, Toronto caterers can customize their services to fit your requirements. They also provide transparent pricing, so you know exactly what you're paying for without any hidden fees or surprises.
Affordable Catering Services in Toronto
Despite their exceptional quality and flexibility, Smokin' Bones also offers affordable catering services. Our team believes that everyone should have access to high-quality catering services at a reasonable price. This means that you can enjoy delicious food without breaking the bank. Moreover, with transparent pricing, you can easily manage your budget without any unwanted surprises.
Sustainable Catering Services in Toronto
Food is not only a source of pleasure but also a tool for positive change in the workplace and the world. That's why they use eco-friendly, biodegradable, and recyclable materials in their catering operations. Additionally, Toronto caterers support local charities and organizations that promote social justice, environmental protection, and animal welfare. This means that when you choose Smokin' Bones as your caterer in Toronto, you're not only getting delicious food, but you're also contributing to a better world.
Tips for Planning Your Easter Office Lunch
Planning and organizing an Easter team lunch can be both exciting and challenging. To make your lunch unique and engaging, consider incorporating Easter themes and activities. For instance, you can decorate the lunch area with Easter-themed colors, flowers, and ornaments. You can also include Easter games, such as egg decorating contests or bunny-themed quizzes, to add a fun element to the lunch. Additionally, work with Smokin' Bones to create a special Easter menu that features traditional dishes with a modern twist. By incorporating these elements, you can create an Easter team lunch with our high-quality office catering services that is both enjoyable and memorable for everyone involved.
Book Your Easter Catering Services in Toronto Today!
If you're planning an Easter celebration in Toronto, you should consider using Smokin' Bones catering services. We offer exceptional quality, flexibility, affordability, and sustainability. Moreover, they are committed to making your Easter celebration unforgettable.
So, what are you waiting for?
Book your Easter catering services in Toronto today and get ready to enjoy a delicious and memorable experience!