11
Feb
Choose a BBQ Feast for Your Wedding Catering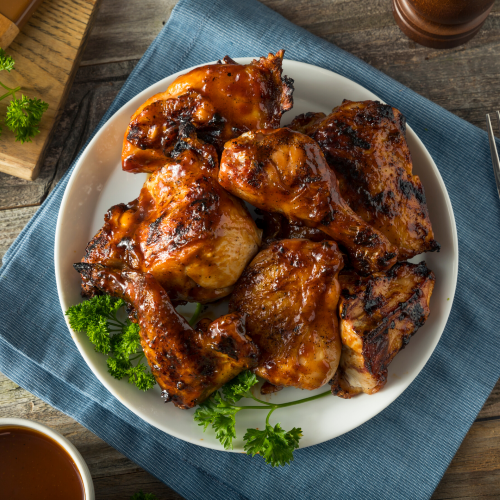 With wedding season quickly approaching, there is a lot of wedding planning that needs to be underway. And one of the more difficult elements to plan is the food. You want it to be delicious, but also affordable. And with so many different guests, it's important to have food that has universal appeal, and a variety of menu items to satisfy different kinds of palettes. With so many things to keep in mind when picking the food, many couples often wonder what to serve at their wedding. But one of the most unique options, that also has universal appeal, is to have BBQ catering at the wedding. Here's why:
BBQ Wedding Catering is Different
Everyone serves the same old salmon and chicken, but how many weddings have you been to that have a fun BBQ spread to enjoy? BBQ catering for a wedding ensures not only uniqueness, but also a fun menu that guests with different preferences can enjoy equally. We've designed a variety of menu packages, ranging from Southern flavours to more traditional wedding options to give you a mix of items that are delicious and memorable. Our Ranchhand Roundup comes with roast beef brisket au jus, fire-roasted honey garlic chicken, and oven-baked potatoes for a unique menu that is sure to please.
BBQ Catering is Fun
Your wedding should be fun, and a special day to celebrate your love with the ones nearest and dearest to you. BBQ catering helps bring in that element of fun, without clashing with the glamourous elements of the wedding like the decor. For example, our Original Southern BBQ incorporates a casual feel to your wedding spread that is still charming. This menu is full of mouthwatering flavours, from our slow-roasted BBQ back ribs to our fire-roasted honey garlic chicken and our fresh-cut melon for dessert. Easy and simple, with no fuss needed, just great flavours.
Build Your Own BBQ Menu
Intrigued by these BBQ menus, but want to put your own spin on it? We're happy to work with you to design a menu that has some fun elements balanced with traditional ones, such as the grilled salmon from our Platinum Package, for a mixture of flavors that will keep everyone happy. We have a range of options that we can put together to create a menu package that works for you. At Smokin Bones BBQ we have a variety of menus to suit different tastes including appetizers, mains, and desserts, for a full wedding menu that is truly designed for you.
At Smokin Bones BBQ Catering, our goal is to create a fun wedding event where everyone enjoys great food and has a great time. We also offer additional services to help make this happen, such as trained and professional event staff, live entertainment, as well as sound and lighting equipment rental. Whatever you need to make your wedding go smoothly, Smokin' Bones is here to help. Our wedding packages are affordable, starting at $29.95 per person. For more information on catering and our event services, please contact us.