04
May
Choose Smokin' Bones To Be Your Corporate Office Caterer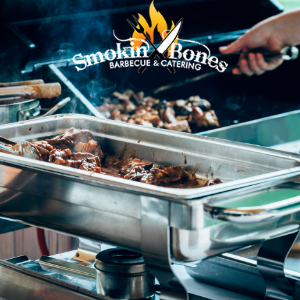 When it comes to corporate catering services in Toronto, it can be difficult to know where to begin. With so many available options, how do you find the perfect catering for your staff? A hassle-free, inexpensive, and popular option that many offices overlook is BBQ catering in Toronto. BBQ catering includes crowd-pleasing comfort food your whole office will enjoy. Smokin' Bones has a range of popular BBQ menus for every occasion, whether it's an outdoor picnic or a boxed lunch for your office. Here are all the reasons you should choose Smokin' Bones for your next corporate catered event.
Why Choose Smokin' Bones BBQ Catering Services
Smokin' Bones is a top choice for stress-free corporate catering services in Toronto. We cater all kinds of events in the Greater Toronto Area, including outdoor corporate picnics and barbeques, weddings, and even small dinner parties and office lunches. We work with you to stay in budget while providing exceptional quality food and service for your next corporate event. BBQ catering in Toronto provides a fun, relaxed environment for your employees to enjoy a much-needed catered lunch.
Types of BBQ Catering
We offer both on and offsite catering to provide you with a wide range of choices for your next corporate event. Are you looking to host a family picnic for your entire staff? Or perhaps a celebratory lunch at the office? The Smokin' Bones catering and events team can help make your large or small event both successful and memorable. Leave a lasting impression with your staff and clients with a delicious BBQ catered meal. Beyond delicious menus, we also offer comprehensive services for your event including professional staffing, entertainment, and party rentals. We are a one-stop-shop for your next corporate event.
Smokin' Bones specializes in corporate catering services in Toronto including meetings, conferences, and trade shows. We offer menus for everything from a small office lunch to a company-wide event. Beyond our corporate services, Smokin' Bones also specializes in unique office events such as holiday parties and award dinners, whether they are taking place on or offsite. Beyond your business, Smokin' Bones can also help with personal event catering for parties and social gatherings in addition to wedding catering and formal events.
Types of Catering Styles We Offer
When it comes to selecting catering services in Toronto, it is important to consider the type of catering you need. A popular option for formal events, award dinners, and weddings is a plated dinner service. This usually involves a seated, multi-course meal that includes an appetizer, main, and dessert. A plated service is the most expensive option and requires more serving staff than some of our other more inexpensive services.
Buffet tables are among the most popular options for a more casual event that offers plenty of opportunities for diverse guests with various dietary restrictions. The one issue with a buffet meal is that when guests serve themselves, they often eat more, which can increase your hidden costs.
Some fun options for large events that are akin to buffet tables are food stations or cocktail-style services. With food stations, tables are placed throughout the venue and feature different entrees, salads, or desserts. Cocktail-style service involves passing hors d'oeuvres and light food throughout the event. Both are easier on the budget and allow you to select a range of delicious food times for your guests.
A popular and unique choice is food truck catering, which allows staff and clients to select fun dishes from multiple trucks as part of their event experience. Food trucks usually require an outdoor event, unlike other more traditional catering services in Toronto.
When considering catering for your next corporate event, it is crucial to consider who will be attending, where the event will take place, and the catering style that will best suit your guests, staff, and clients. Ensure that you consider all your options before finalizing your menu and booking any bells and whistles you need for your corporate event. Smokin' Bones can provide staffing, party rentals, and anything else you need to make your event a success.
At Smokin' Bones, we offer BBQ catering in Toronto and the Greater Toronto Area. We have years of experience hosting and catering events in parks, outdoor spaces, and large and small offices throughout the Toronto Area. Our delicious menus offer a range of BBQ delights, including brisket, ribs, burgers, and more! BBQ catering services in Toronto create a memorable, one-of-a-kind experience for clients and guests. Feel good comfort food is a crowd-pleasing option to guarantee the success of your next event. Browse our different BBQ menus to learn more about the options available for your event. To learn more about Smokin' Bones and get started with your event planning, contact our team at 905-508-2665.