23
Jun
Connect Your Remote Teams at the Office with Catering
In today's modern age of technology and remote work, teams dispersed across the country or even the globe may begin to feel less connected. Hosting an in-office meeting or event with office catering in Toronto is a great idea. Catering companies in Toronto can whip up excellent meals, and your team can gather to chat in person. You can even consider barbecue catering to create a more casual and comfortable atmosphere for the meeting to encourage socialization and camaraderie. With barbecue catering in Toronto at the office, the in-person meeting allows everyone to talk to one another more freely.
Bring your remote team together with premier catering services in Toronto from Smokin' Bones. Our team offers absolutely delectable menu items for a variety of corporate clients.
Read on to learn more about connecting your teams at the office with catering.
Why Should Remote Teams Meet-Up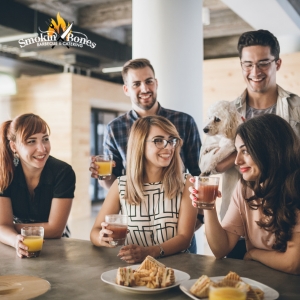 Remote teams are a great way to cut down on commute times, offer better work-life balance, help increase productivity and are an eco-friendly option. Despite these benefits, remote employees can sometimes feel isolated from the organization; and, they may also have difficulty collaborating or brainstorming with their colleagues. Hosting an in-person meeting will help your team feel more connected and familiar with each other. Once your team builds trust and has an easier time communicating with each other, they will begin to be able to share ideas and concerns more freely.
Guide to In-Person Meals for Remote Teams
The in-person meeting should be a relaxed meeting or presentation hosted by more than one person, and offer a meal afterwards so everyone doesn't simply listen and then goes home at the end of it. You want to ensure employees have enough time to chat amongst themselves and build connections with one another. So at the end of the meeting, presentation or workshop, ensure there is a time for everyone to mix and mingle afterwards.
Office catering in Toronto is a great way to host everyone to a great meal and have them sit down and converse about work and nonwork subjects. Often, when the food is particularly delicious, catering companies in Toronto become the topic of conversation.
Barbecue Catering & Buffets
Hosting a wonderful buffet or barbecue is a great way to have everyone indulge in the meal and prolong the meal. If you simply offer sandwiches and lunch boxes, it may create a different atmosphere than you were hoping for, as people may eat their meals quickly or take their lunch boxes and sit somewhere else in the office.
With a delicious buffet that offers appetizers, entrees and desserts, everyone will be seated in the designated area and go back and forth to serve themselves different foods.
If you want to treat your team to something special or celebrate an achievement, consider having a sit-down meal and service at your office premises. There are a multitude of options when it comes to office catering in Toronto.
Smokin' Bones for Office Catering in Toronto
Smokin' Bones is a celebrated catering company that hosts outdoor and indoor events. We cook our food to perfection and never disappoint our clients. If you would like to plan your next event, call us, and one of our friendly experts will be happy to help.