13
Apr
Create a Unique Office Catering Experience this Spring
Typically, the office atmosphere will change as winter comes to a close and spring comes along. With the warmer weather and brighter days, people become more cheerful and enthusiastic, looking for new ways to connect with their team. The high energy and openness presents an opportune time for businesses to elevate their team morale by bringing something new to the table with employee events and office catering in Toronto.
Happy employees are often more productive, so a thoughtful event will help boost morale. If you are looking for caterers in Toronto this spring, reach out to Smokin Bones for something fresh, light and high-quality. Companies and their employees often opt to host barbecues during the warmer months but will order other foods for their office catering in Toronto. Smokin Bones will help you tie those two goals together - a great summer barbecue that is catered so there is no prep, work or cleanup needed.
Creative Office Catering in Toronto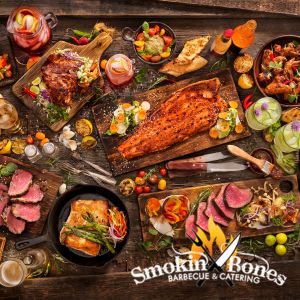 When companies look for office catering in Toronto, it's important to consider food that people will enjoy. Smokin Bones offers several options for office catering, from buffet to lunch boxes. Our buffets offer an extensive selection, and we cater to different dietary requirements. We are happy to provide vegetarian, gluten-free, kosher and halal options and a variety of different BBQ themes. A favourite is our slow-cooked original southern barbeque options, where your team can indulge in delicious slow-cooked meats.
Why Thoughtful Office Catering Matters
Providing an excellent lunch for your office shows an appreciation for the team's hard work and that their efforts are valued. You want to have your team bustling with joy after the meal, so ensure to choose a caterer thoughtfully. High-quality office lunches are a valued perk by employees. Giving your team a treat they deserve and appreciate will boost morale and internal relationships.
A Lunch Box Like No Other
If there is not enough space to accommodate a buffet or if cross-contamination is a concern, we can provide an excellent variety of lunch boxes. This is a perfect way to host a casual lunch with fire-roasted chicken and premium burgers or offer something more indulgent like Slow-Cooked Pulled Pork or Roasted Beef Brisket Au Jus. Our sides are also highly reviewed, and we ensure to create every item we serve thoughtfully.
The next time your team thinks of doing a barbecue, consider calling us for a delicious, stress-free event with one of the best barbecue caterers in town.
Delicious and Popular Menus
Smokin Bones established themselves as the go-to office caterer in Toronto as our seasoned chefs bring their passion to everything they cook. We use only high-quality ingredients and ensure everything we prepare, whether a main or side, is flavorful and tasty. We bring fresh food to your event that everyone will relish.
Choose Toronto's Favourite BBQ Caterers
Let Smokin Bones create a unique catered event for your team. We can always promise delicious quality food, attentive service and various serving options. We are an affordable caterer in Toronto with no hidden fees. We pay close attention to every detail, so you will not need to worry about a thing.