04
Jun
Enjoy Canada Day with Amazing Catered BBQ in Toronto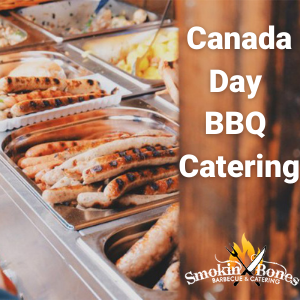 One of the biggest and most widely celebrated days in Canada during the summer is Canada Day. This year we are celebrating the 153rd Birthday of Canada, and what better way than to celebrate with good friends, good entertainment and good BBQ Catering food from Toronto.
So many of us have been in our homes on stay-at-home orders for the better part of a year. This Canada, why not (safely) bring together the people you love for a Canada Day celebration everyone will enjoy, catered by Smokin' Bones BBQ & Catering Services in Toronto.
Celebrate Canada Day Safely
According to the health professionals, outside gatherings are still the safest way for us to share a meal together. If you have space in your backyard to host, this could be an easy option. If not, you could always check with local officials about the ability to use a local park or other large outdoor location.
This is where Smokin' Bones BBQ & Catering Services will come in handy. Having an outdoor event brings complicated logistical challenges, like seating arrangements and proper cooking stations. Smokin' Bones has party rental options just for this reason!
We can ensure there is enough glassware and tableware for guests, we can provide table and seat rentals, so all guests have a place to sit, and we can even bring our own cooking equipment to prepare the food fresh on-site.
Pig Out On Delicious BBQ
On Canada Day, give yourself permission to indulge and pig out on some of the tastiest bbq catering available in Toronto! At Smokin' Bones, our BBQ catering services are more than just burgers and hot dogs. We serve up some of the finest bbq meats, seafood and poultry in all of Toronto.
We offer customers a vast selection of menu options. Whether you fancy a more elaborate menu or want to keep it finger-food casual, Smokin' Bones will be there each step of the planning process to make sure your event is full of intimate memories and spectacular food.
Don't Forget Entertainment
Smokin' Bones BBQ & Catering knows that it's not just the food that makes a great party; it is also the atmosphere! A Canada Day celebration wouldn't be complete without lights, music and entertainment! We are happy to offer as part of our BBQ Catering Service - sound and lighting rentals, plus we can even offer the option for live entertainment from our house band, The Rockin' Axemen.
Get The Best BBQ Catering Services In Toronto
Choosing to host a party with BBQ Catering services provided by Smokin' Bones is a great way to keep your event casual, within your budget and hosted outside to allow for more social distancing. The key to success for Smokin' Bones BBQ Catering Services is always providing the highest quality product and delivering unmatched customer services.
If you want a BBQ Catering company in Toronto to take care of everything from designing the menu, providing the setup materials and the clean-up, get in touch with Smokin' Bones BBQ & Catering today.