06
Dec
Get the Best Office Sandwich Catering In Toronto From Smokin Bones
We all know how important it is to treat your employees to a lunch provided by corporate caterers. Whether it be for your co-workers, your manager or an achieving sales team, your company needs to provide your employees with nourishing lunches that are both healthy and satisfying. Why not hire the best office catering company in Toronto and nearby areas and contact Smokin Bones?
Reasons To Have A Corporate Sandwich Catered Lunch
Networking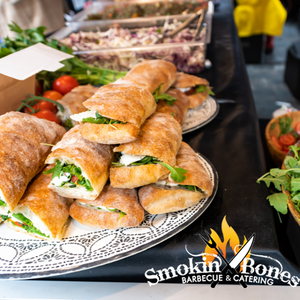 If your company is looking to expand their business, hosting a corporate catered lunch is one way to bring potential new clients on board.
Boost Morale
Sometimes you just need an excuse to get your co-workers together outside the office and talk business while enjoying good food. After all, you never know who might share a connection that can help your company!
Stretch Your Budget
Instead of everyone buying lunch every day, allow one day for your employees to enjoy a delicious lunch catered in by your own company. You'll save some lunch money while impressing your co-workers with your thoughtfulness!
Get Your Company Noticed
Hosting a corporate catered lunch allows you to discuss your company directly with potential new clients or properties that could use your services.
Choose Sandwich Catering
Of course, there are many options for delicious corporate catering options to choose from, but our corporate sandwiches catering packages are the ones that everyone loves year after year.
To make the perfect sandwich, it is all about getting the right ingredients to create the perfect flavour mix. And at Smokin' Bones, we know how to make a good sandwich.
You can get all sorts of sandwiches when you order our corporate sandwich platter, depending on the platter you select and how many people you want to serve. The best part about our corporate sandwich catering service is that you get delicious food without having to do much work at all!
The Smokin Bones Catering Difference
The best office caterers offer a lot of choices for every taste and budget. But if you want to treat your employees especially well, or if you know your guests won't be satisfied unless they have a specific type of sandwich, contact our team! The way we see it, one of the reasons why people love office sandwich catering so much is because they can choose just what they like and don't like about their sandwiches. That's why we promise to put in a little extra effort and prepare something special for everyone.
Show Your Employees You Appreciate Them
There are many ways for companies to show their employees some appreciation. Sometimes it is just a simple pat on the back every now and then, or maybe an anonymous gift card to give them a small thank you. However, if your company is looking for a slightly bigger show of their appreciation, then a catered lunch from Smokin Bones might be the way to go. Catered lunches have been a long-time tradition. With the holidays approaching, it's a great time of year to boost your employees' morale with a catered lunch. So get in touch with our catering company in Toronto today to book your corporate catered lunch!