13
Feb
Guide to Team Valentine's Celebration with Office Catering
The winter can be a bleak time for many people, with busy schedules and heavy workloads overwhelming most days at the office. Valentine's Day lunch with the team gives the people your business depends on a chance to take a break from the hectic lifestyle and connect with office catering in Toronto. Breaking for an activity as simple as lunch facilitates social bonds among your team, enabling happier employees and better workplace performance. For support throwing a memorable Valentine's Day lunch, contact the leading caterers in Toronto at Smokin' Bones.
Read on to learn how you can organize a memorable and fun Valentine's Day lunch with tasty office catering in Toronto.
Choose the Best Caterers in Toronto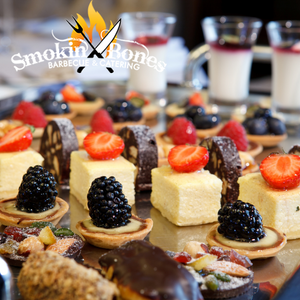 Before proceeding with your office lunch, you must first select a catering company with the experience and reputation to deliver high-quality work. Smokin' Bones is an experienced catering company in Toronto that provides top-notch work for offices and other business settings. The best catering companies in Toronto offer a variety of catering services, prompt and reliable services, and delicious food that keeps you coming back for more. Our team of caterers in Toronto offers a variety of options when it comes to catering styles. The most popular for office catering in Toronto includes drop-off catering for sandwich platters and hot lunches.
Curate a Valentine's Day Menu
Valentine's Day presents the perfect opportunity to get creative and have fun. When planning your lunch, talk to your caterers in Toronto about themed lunch options. Explore the possibility of a themed lunch with heart-shaped sandwiches, pink and red desserts, romantic entrees, and colourful drinks.
Choosing an appropriate Valentine's Day menu for an office team lunch can be challenging, especially considering dietary restrictions. Here are some steps you can follow to ensure that everyone can enjoy the meal:
Determine dietary restrictions: Find out if any of your team members have nutritional conditions, such as allergies, vegetarianism, or gluten-free diets.
Work with caterers in Toronto: Work closely with the catering service to ensure that they are aware of the dietary restrictions and can accommodate them in the menu.
Choose a variety of dishes: Consider offering a variety of dishes to appeal to different tastes and dietary restrictions. For example, you can offer meat and vegetarian options or gluten-free and regular options.
Consider themed dishes: Consider incorporating Valentine's Day-themed dishes into the menu, such as heart-shaped sandwiches, pink and red desserts, or romantic entrees.
Label dishes clearly: Ensure that the catering service labels each dish clearly, including any ingredients that may cause allergies or dietary restrictions.
Offer non-alcoholic options: Consider offering non-alcoholic drinks and alcoholic options to accommodate those who prefer not to drink alcohol.
By following these steps, you can choose an appropriate Valentine's Day menu for an office team lunch that takes into account dietary restrictions and provides options for everyone.
Create a Social Ambience
Once your carefully-curated meals arrive, it's time to enjoy and engage with your team. While a good meal is a great way to encourage social interaction among groups. You can add special touches to the lunch, such as music, games, or prizes, to make it even more memorable and fun.
You can print out your menu and food options on themed stationery decorated with pink and red hearts or in a romantic script font for added flair. You can maximize your theme by adding fun decor to your lunch room or the place of your choice with paper hearts, window decals, and more. You can go above and beyond with flowers, balloons, candy, and dessert.
Get started on your Valentine's Day planning with Smokin' Bones.