14
Jul
Hallmarks of Well-Catered Event
Like any party, throwing an event at work can be stressful. You want to please everyone and exceed their expectations to ensure that your entire team has a great time. One of the most significant indicators of a good event is the food, which puts a lot of pressure on choosing the right corporate catering company for your event. But doing your research and reading your reviews, you can find office catering in Toronto and the nearby areas that will leave your employees more than impressed.
Still, trying to find the best corporate catering company? At Smokin' Bones, we offer a BBQ office catering in Toronto and the entire GTA that always impresses.
Here are some undeniable signs you chose the right office caterer for your event.
Selection & Variety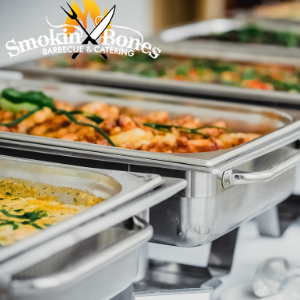 Your team at work is typically diverse, with varying dietary restrictions and requirements. The service you choose to cater for your corporate event should be able to handle those restrictions with grace. The last thing you want is for a team member to feel left out because there aren't options they can enjoy. At Smokin' Bones, our BBQ office catering in Toronto can handle various dietary needs, including vegetarian, fish, and chicken options.
The Right Amount of Food
When ordering the right amount of food from your corporate catering service, you don't want to have too much or too little - it's the Goldilocks effect. Excessive amounts of food can be wasteful and challenging to redistribute, although you can send doggy bags home. A more troubling sign is when you run out of food before an event ends, leaving some guests without a full taste of your menu. To ensure you're ordering the perfect amount of food to limit leftovers and satisfy every guest, count how many people will be in attendance and add a few extras for good measure. Then share your headcount with the team at Smokin' Bones. With years of experience providing BBQ office catering in Toronto and the GTA, we'll ensure you have enough supply to last through the entire event.
Entertainment
What do people like more than dinner? Dinner and a show. Pair your dinner or lunch with live entertainment to enhance the experience. At Smokin' Bones, in addition to corporate catering, we provide event entertainment that is both appropriate and exciting. Let us know if you have a theme, and we'll help with entertainment, lights, and sound.
Fully Prepared & Attentive Staff
Just like when you're at a restaurant, the service matters almost as much as the food. Your employees will feel appreciated and well-cared for when your caterers' wait staff and servers are attentive, kind, and prepared. A well-catered event means that you nor your guests will be left looking for cutlery or dishes at the last minute.
Positive Feedback
The feedback you receive is the clearest and most undeniable sign of a well-catered event. Listen to what your team wants from the caterer and what they love about your event. For help throwing a great corporate event, choose Smokin' Bones. Our BBQ office catering services are a favourite near Toronto and the surrounding areas.