24
Jul
How to Add More Flair to Your Office Barbecue
It's essential to keep your employees engaged, not only to boost morale but improve productivity and connection between your team as well. Holding events that keep your team happy is all you need. Take advantage of the summer months and host an office catering in Toronto for your employee outside. This provides a space to wind down, away from the busy and fast-paced work environment, and allows your employees to build a personal connection with their peers. Catering companies in Toronto, like Smokin Bones, can help set your events up. We provide all types of food styles, including barbecue catering. We bring our chefs on-site to barbecue, so you have fresh food to serve your guests.
Learn how to spice up your office barbecues this summer with Smokin Bones.
Decorations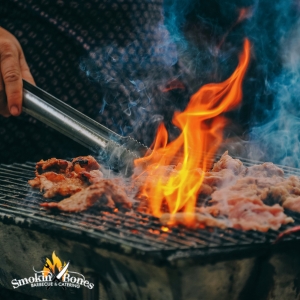 Create themes and decorate for your office events. By doing so, it can create a point of conversation and enforce interaction among individuals. With pops of colour and eye-catching decoration, this can spark creativity and innovative thinking when working. When companies put effort into creating an inviting space for office parties and celebrations, it indicates to the employees that they care about their well-being and happiness. You can go the extra mile and have your employees get involved with the theme by telling them to come dressed based on the theme, or provide accessories at the event.
Activities and Games
Who doesn't love a friendly competition? Providing a playful space for your employees to relax can help them open up more.
Raffles: Everyone likes free stuff. Include gift bags, prizes, and even free merch to give out to participants. You can promote brand awareness by doing so. Set up the raffle where everyone who attends is automatically entered; this will automatically encourage engagement.
Photo Booth: A photo booth allows people to pose with their colleagues and create a bonding experience. Set up a photo booth with props and an excellent background, or even the decorations can make a suitable aesthetic for them to take pictures in front of.
Fun games: If you really want to spice up your barbecue, rent arcade or carnival games for your employees to explore. Games like scavenger hunts can create competition and improve engagement. This can create a bond among coworkers to build teamwork and morale.
Awards
Use a barbecue catering event as an opportunity to celebrate something, whether it's a promotion, a company achievement or a retirement. It's a time for people to come together and enjoy each other's company. Some companies hand out playful superlatives within the company every once in a while to keep a light-hearted atmosphere. By doing so, employees gain reassurance, knowing that they are seen in the company. With reliable office catering in Toronto, during dinner or lunch, when meals are being served is the perfect time to hand out your achievement awards.
Catering with Smokin Bones
If you are looking to make your office events cozy, as if it was a backyard party, Smokin Bones is a top catering company in Toronto. We bring our barbecue chef on sight to deliver fresh food. We offer a ton of different menus for you to serve, and if you have any dietary requests, our menus can be curated to accommodate you and all your guests. Contact Smokin Bones today or visit our website to learn more about the company.