13
Sep
How To Choose the Best Office Catering Company In Toronto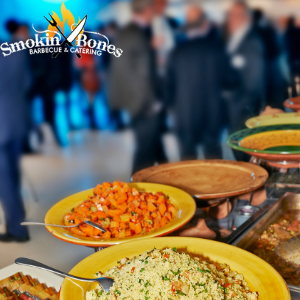 SmokinBones is Toronto's premier Corporate catering company, specializing in the most mouthwatering BBQ Catering in Toronto. For more than five years, Smokin' Bones has satisfied customers with delicious catering services in Toronto & nearby areas.
When you're looking for the best office catering company in Toronto & nearby areas, Smokin' Bones BBQ Catering is the company to choose. From delicious food to smooth logistical planning, Smokin' Bones will handle every detail of your event with care and professionalism.
Office Catering Experience in Toronto
We pride ourselves on delivering a premium corporate catering experience. No matter the size of your company or your location, Smoking Bones corporate catering services will not disappoint. We cater seat down meals, in-office buffets and spreads, large corporate events and everything in between.
Your office events represent your company. As a full-service office catering company in Toronto, we can assure your next office catering event will be a culinary experience your employees will not soon forget.
Our commitment to delivering an exceptional corporate catering experience has propelled us to be one of Toronto's leading corporate caterers. Our superior food, hands-on customer service, affordable pricing and flexible menu options make us the best choice for your office catering needs.
Why We Are The Best Corporate Caterers

In Toronto

Smokin Bones is a reliable catering company that consistently delivers high quality and creative catering dishes. We have worked hard to earn our position as one of the best office catering companies in Toronto & nearby areas.
Corporate Thanksgiving Dinner Events
A Thanksgiving office party can be a great way to boost morale at work. Bring in external entertainment, provide some good food and drinks, arrange the team into small groups for discussions, or all of these things together!
Take a break this year and let Smokin Bones cater your Thanksgiving office party! Free yourself from the complicated and time-consuming tasks of organizing your offices' Thanksgiving dinner, and have it catered by Smokin Bones!
The Best Corporate Catering Company For Thanksgiving Nearby
Smokin' Bones is an exceptional corporate catering company in Toronto, serving both large and small corporate events. We are the best office catering company in Toronto because of our commitment to detail, our people, and our food. From event planning to bbq catering, our professional catering team is here for you every step of the way.
For Thanksgiving events, food is a pretty big part of the experience, so you're going to want it to be the best it can possibly be. Companies love us for our fully cooked Turkey dinner platters that can be conveniently delivered and the creative tablescapes. Pick us for Thanksgiving catering in Toronto, and we'll make sure that guests leave full and happy.
Why Choose Us To Cater Your Office Thanksgiving Event
Exceptional catering at affordable prices

Easy to navigate website

Excellent customer service

Delicious dishes like pulled pork, chicken wings, brisket, salads and desserts

Tasty food with lots of flavor that lasts long after the meal
Book The Best Office Catering Services Today!
As we approach Thanksgiving season, we are already receiving requests to cater companies' Thanksgiving office parties. Reward your employees this year by hiring the best office catering company in Toronto & nearby areas. Get in touch with our dedicated catering specialists today.