17
Aug
How to Foster Wellness with Office Catering in Toronto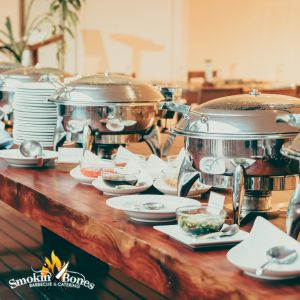 As professional demands are often a top priority for full-time workers, wellness throughout the company is crucial. With employees spending most of their days working, we want to ensure a positive environment that creates a desire to come to work every day. Many employees forget to eat and take a moment for themself, with the massive load of tasks and work demands. With office catering in Toronto, provide your employees with balanced, healthy meals to not just survive the tough work days, but enjoy them. Catering companies in Toronto, like Smokin' Bones, can help. With an extensive list of menus, create a unique dining experience for your employees to optimize productivity and motivation.
Businesses that provide catering services and show empathy towards their employees tend to have higher success rates and loyalty towards the company as employees feel cared for by the company they work for. There is a significant increase in productivity, motivation and overall outcomes.
Explore how to foster wellness in the office with catering services.
Nutrition: Healthy Meals
What you eat affects the quality of anything you do. Often, offices provide unhealthy options like donuts or vending machines with candy or soda. It's a last-minute resort for people who may get hungry during the off time. When in the office, employees are often left to source their lunch. If they don't choose to bring their own, they often resort to fast food because it's easy and quick, perfect to grab and return to the office. Though convenient, these grease-filled foods often leave them feeling sluggish and unmotivated to work. By providing office catering in Toronto, you can offer healthy and fresh options to your employees to have them feel their best to increase productivity.
Balanced Diet
With tight schedules with commuting and daily tasks, it can often be difficult to fit 3 meals into your day. When leading an always-on-the-go lifestyle, we may drop a meal occasionally, creating lousy eating habits. To perform at our best, being well-fed is essential, as food creates brain power. This is why companies often provide in-office catered breakfast, as many employees skip breakfast when in a rush in the morning. As breakfast is the most important meal of the day, companies take the initiative to feed their employees, to see better outcomes. Catering companies in Toronto want to help improve the health of customers.
Creating Interpersonal Connections
By creating a positive and engaging environment for employees, they can build personal connections with coworkers and the team, creating an excellent foundation for the company. By making these connections, it promotes productivity and communication all around, not just within groups. You don't want to create a hostile environment, which can affect your employees' work.
Smokin' Bones for Office Catering Toronto
For your next office catering, consider Smokin' Bones. We offer catering services and on-site barbecuing if you are looking for a catering service for an outdoor office event. Our variety of menus to choose from accommodates everyone attending your event. We are flexible to accommodate all dietary needs of as many guests as possible. Get in contact with Smokin' Bones to get started on planning your next catering event.