15
Aug
How to Indulge in the Final Month of Summer with BBQ Catering
While August can be a bittersweet time as autumn approaches, there are still many days of summer left to enjoy. Whether you're in need of event catering for a wedding or special occasion, or you're looking to upgrade a meeting with office catering, nothing says summer like sunny days, community, and delicious eats right off the grill. Talk to our trusted caterers in Toronto, at Smokin' Bones to start planning your event this August, personal or professional.
Read on to learn how you can indulge in barbecue catering this summer.
Choose a Sizzling Catering Company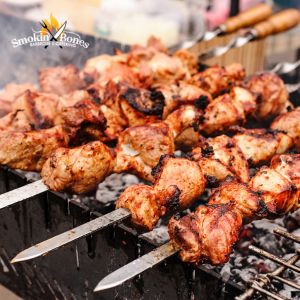 The scent of charcoal and the sight of sizzling smoke is synonymous with summer. And while many people find themselves glued to the grill on sunny days, for special occasions, it's best to take the pressure off yourself and choose a catering company near you that can take on the responsibility of cooking in real-time for your guests. Our team of experienced caterers in Toronto will help coordinate everything from your menu to entertainment.
Classic & Diverse Menu Options
Whenever you're partnering with a catering company for your event, it's imperative that you get high-level experience. One of the joys of barbecue catering is the range of options you can serve your guests. Working with Smokin' Bones, you can finetune your menu to include delicious classics like fall-off-the-bone ribs, tender chicken sewers, smoky pulled pork, and tasty burgers. You can choose from delicious summer salads and creative slides that deliver on flavour and experience. You can explore our menu options online or talk to our team of caterers serving the Greater Toronto Area to find more options.
Set the Perfect Scene
To close off summer with a memorable experience, it helps to establish the perfect venue. Typically with barbecue catering in Toronto most hosts choose to hold the entire event outdoors with stylish tableware and green accessories that embrace nature. With cozy cushions in the day and glitzy centerpieces at night, your backyard or other outdoor space will serve as a great venue for any type of event. A classic choice for backyard barbecues, fairy lights and warm lighting help to elevate your experience.
Elevate with Entertainment
Incorporate entertainment that complements the laid-back vibe of a BBQ gathering. Set up lawn games like cornhole, horseshoes, or frisbee to keep guests engaged and active. If you're feeling musical, a live acoustic performance or a curated playlist of summery tunes can enhance the atmosphere. Our Toronto caterers will help you find the right entertainment choice to elevate your guest experience.
Sweet Send-Off
No celebration is complete without dessert and with Smokin' Bones you can top off your summer BBQ with a sweet treat that dazzles the taste buds. Go beyond the traditional and indulge in treats that are both delicious and easy to enjoy. From grilled fruit skewers drizzled with honey to gooey s'mores prepared over an open flame, the dessert selection can extend the excitement of the BBQ experience into the final sweet moments of summer.

Don't let summer pass you by, with Smokin' Bones you can make the most of the warm weather with high-quality catering services.