23
Apr
How to Save on Wedding Catering Costs
When it comes to setting a budget for a wedding, many couples quickly find expenses consume them during the planning process. Making a budget and sticking to it can be a tough job, especially when you have to consider catering, rentals, entertainment, wait staff, and the venue. Thankfully, most wedding catering companies can provide an estimate for the price of the dish per person to help you stick in your budget range. Beyond your food costs, there are other expenses to consider depending on the catering services in Toronto you require for a wedding. Some of these costs include renting cutlery and dishes, hiring waiters or security, and of course, the other elements of a budget to consider. Here is our guide for saving money on your wedding catering costs.
Go With Barbeque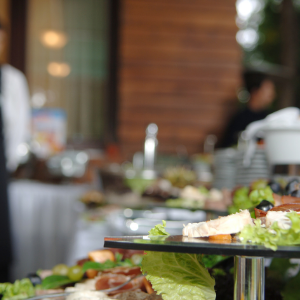 Barbeque is a unique catering choice for your wedding that is also easy on your wallet. Your guests will rave about tasty options like pulled chicken or BBQ pork with inexpensive sides that help you keep your wedding on budget. A barbeque is a great option for a casual reception or an outdoor wedding, allowing you and your guests to make memories in a laid-back environment. A staple of Southern-style weddings, BBQ catering can include popular side dishes like double baked potatoes, green bean casserole, and macaroni and cheese. For minimal additional costs compared to a traditional catering services in Toronto, you can enjoy a delicious meal with all your friends and families.
Get Creative with a Food Truck
A popular choice for modern weddings, food trucks allow you to have various dishes served at your reception. Can't decide on one type of menu? Hire a few different food trucks to save on money while still supplying a diversity of choices for your wedding guests.
Stick to a Concise Menu
It will likely come as no surprise that the more options you have, the more your wedding will cost. A great way to save money is to keep your menu concise. We recommend offering one or two meat options and one vegan or vegetarian option depending on your guest list.
Only Order What You Need
Most catering services in Toronto will recommend a margin of error when it comes to ordering food for your wedding. Although there will always be no shows and last-minute additions to your guest list, try to order only the number of dishes you will need.
At Smokin' Bones, we offer barbeque wedding catering at a fraction of the cost of traditional catering services in Toronto. Our delicious barbeque menus can be tailored to suit the needs of you and your guests and barbeque dishes are easily served at outdoor weddings. It is a fun and casual menu option for anyone looking to stick within their budget while offering delicious and memorable food choices for their guests. To get started booking your wedding catering for the summer, contact the Smokin' Bones team and browse sample menus at 905-508-2665.