25
Feb
How To Thank Your Employees With An Affordable BBQ Catering in Toronto
After working from home for almost an entire year, employees and employers alike are slowly beginning to head back into the office. What's more, companies are looking for ways to reward and thank their employees for their hard work. While large indoor corporate parties are unlikely, it's time to start planning your spring/summer outdoor party. For office BBQ catering in Toronto, contact the experts at Smokin Bones. Read on to find out how our corporate BBQ caterers can help thank your employees in Toronto.
Getting A Quote
Office BBQ catering in Toronto is an easy and affordable way to thank your employees. With many menu options to choose from, the average cost can range from $10-$50 per person. Depending on the type of food, how many people and the kind of event can all affect your catering price.
Choosing the Menu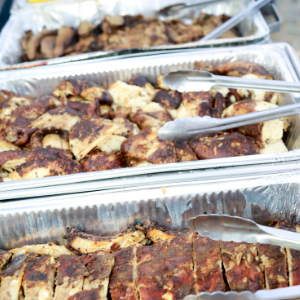 Depending on your budget and taste buds, our corporate BBQ caterers are ready to cook you and your staff a delicious BBQ meal. Our most popular package is the tenant and staff appreciation BBQ for $13.95. This package comes with a choice of any three salads, a selection of burgers, hot dogs or veggies burgers, along with fries, fruit and drinks on the side.
Besides those options, we have a variety of other popular menu items to choose from for an additional cost. On the less expensive end, you can serve our Memphis Griller package that includes your classic BBQ meal: burgers, hot dogs & sausages. BBQ packages that include roast brisket, ribs, sandwiches and more may affect the price, but they come with delicious options for everyone—looking for something a little more unique? Smokin Bones also provides a fully customizable menu tailored to you and your needs.
What's Included?
With special combination menus with Smokin Bones, you're not just getting a typical catering company. You get the whole package deal. This includes the proper equipment to cook your food, coordination, professional chefs, our catering staff, cutlery and plates, condiments & sauces, beverages and more!
For Office BBQ Catering in Toronto, Contact the Professionals at Smokin Bones
When it comes to office BBQ catering in Toronto, Smokin Bones are the catering company to call. With years of experience, we have served countless staff events providing a high-quality and delicious experience. Regardless of the menu option you choose, there will be something for everyone - including the vegetarians!
It's time to focus on enjoying time with your staff and employees, and let us take care of the rest! From bringing the food, setting up the event and serving a full-catered evening, we are ready to help create your staff appreciation event with ease. Want to learn more about our different menu options and packages? Visit us online or give us a call, and one of our BBQ experts can help you find the perfect menu.