03
Aug
How to Throw an Upscale Backyard BBQ
A backyard BBQ is not always regarded as a fancy or formal event, but even the most casual property can be transformed into an upscale venue with the right elements. One of the most impactful elements of an upscale event is the food. There are hundreds of catering companies in the Greater Toronto Area that you can choose from, but Smokin' Bones will help you elevate your backyard BBQ and turn your party into the event of your dreams.
Here are some tips on how to throw an upscale BBQ.
Served Meals & Staff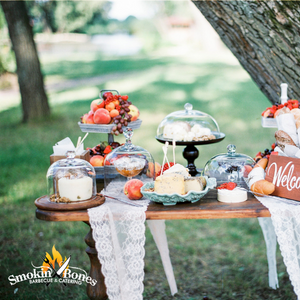 When guests get up to fill their plates themselves, it can often add chaos, confusion, and messes around the food areas. Having staff assist with the distribution of food enhances the guest experience.
One option is to have staff stand by each dish in the buffet line and distribute food to each guest. This is great for parties with multiple designated food areas, such as a grill or carving station. Guests will feel the luxury of being served while also being able to physically explore their options.
The alternative for an upscale backyard BBQ is to have your guests be served at their seats. This is a favourite when at weddings and other monumental events. Many catering companies offer a served option. At Smokin' Bones, our staff is well organized and reliable, offering a seamless and smooth dining experience.
Elegant Menu Options
If you're throwing a backyard BBQ party, then there should definitely be classic barbecue menu items at the event. But that doesn't mean you can only serve hot dogs and burgers. The versatility of what can be cooked well on a grill leaves you with a wide range of menu items that will satisfy and impress all of your guests. At Smokin' Bones, you can choose from a menu package or work with our team to customize your own party menu. If you have curated a multi-course sit-down menu, get more points by printing out your menu and leaving it at each place setting.
Signature Drinks & Cocktail Hour
When throwing an event, the ability to socialize and mingle is as important as the reason for gathering. If you have a planned program, like many people do in the case of a wedding or a birthday party, scheduling a cocktail hour prior to the start of the event with featured drinks gets all the guests acquainted and buzzed. Smokin' Bones can help you come up with a fun and exciting mocktail that tastes great for those who prefer an alcohol-free event.
Dress Code
Just because you're in a backyard doesn't mean you don't have to dress like you're at the ball. On your invitations, give your guests a dress code, whether it's glam, semi-formal, or black tie. For upscale backyard BBQs, semi-formal is the recommended dress code – men will show up in suits and women in cocktail dresses. When you have a dress code for your guests, you can trust that your caterers and their staff will be dressed in a uniform that makes sense for your party at Smokin' Bones.
Throwing Your Backyard BBQ
From weddings and anniversaries to birthdays and life milestones, a backyard bbq is a great way to celebrate with the people you love. A good catering company, live entertainment, and great decor will tie your entire space together, creating a picture-perfect environment. At Smokin' Bones, we'll help you orchestrate all things menu-related.