27
Mar
Office Events You Should Plan with Catering Services Toronto
Office catering in Toronto is a great way to show your team you care and maximize convenience when there is a special event or holiday that you would like to address at work. Coordinating with trusted caterers in Toronto will help you win over your team without losing too much time or resources to throwing together the perfect in-office event. There are a number of reasons businesses may want to serve a great meal. With Smokin' Bones, the leading office catering company in Toronto, you can be sure that you'll always have a menu and event that impresses.
Read on to explore the office events you can plan with trusted caterers in Toronto at Smokin' Bones.
The Big Meeting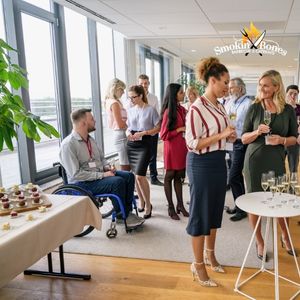 Meetings and presentations are inescapable in the corporate world. Whether you're courting new clients or entertaining prospective vendors, you may find yourself in the boardroom for hours on end, at which point attendees will inevitably get hungry. Working with Smokin' Bones, you can plan a professional spread ahead of the meeting to give your team and your guests a filling and delicious selection of food options that will keep them happy and engaged.
Employee Appreciation Events
Employee appreciation events are expected after the completion of a big project, a significant success, or just after a year to remind your team that they are well appreciated and deserve to be treated to something nice. An organization-wide lunch or dinner is an excellent employee appreciation option. With the expertise of experienced caterers, you can provide a range of food options that cater to various food restrictions and preferences. You can also choose simple drop-off catering or more buffet catering, depending on your venue and time allotment.
Team Building Meals
Many busy employees who have packed schedules and are overwhelmed with work end up skipping meals. The occasional catered meal, whether breakfast or lunch office catering, will give your employees the nutrition they need to power through their day. At Smokin' Bones, you can choose from hot bowls, sandwich platters, boxed lunches, and more. To play your office catering in Toronto, reach out to our team directly.
Holiday Meals
Just like at home, the holidays at the office tend to be a pretty busy time. Schedules are far busier, and the workload increases, yet there is still a desire to celebrate and gather with the people around you. Holiday catering at the office takes the stress out of preparing group lunches and saves time. With reliable office catering in Toronto, you can celebrate virtually any holiday at work without the hassle. From Christmas to birthdays, our team of caterers in Toronto will give you the gift of a stress-free meal with your team.
Office Catering Events with Smokin' Bones
Smokin' Bones is Toronto's leading office catering company. We provide a range of high-quality and tasty catering options designed to save time, increase convenience, and impress. Work directly with our team of skilled catering professionals to curate and customize the perfect menu for all your work events.