06
Jun
Organize Your Corporate BBQ In 5 Easy Steps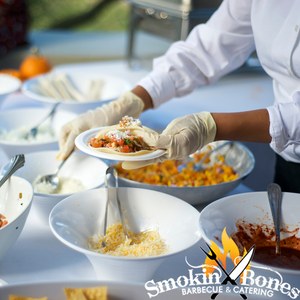 Are you in charge of organizing your company's next corporate barbeque and selecting the best office catering in Toronto & nearby areas? If so, here's how to make it as easy, convenient, and as tasty as possible.
Whether you're the type of business with an annual summer soirée or a small startup team with a large upcoming project, there are a wide variety of reasons to throw a summer bbq. Whichever the case, with the help of our corporate caterers, organizing one is not as complicated as it seems.
1. Discuss Your Budget & Needs
When it comes to planning a corporate event, your budget is vital. When you discuss your budget with your corporate catering company in Toronto, ensure you bring up any concerns about the funds' appropriateness for your service and related event details. For example, if the budget won't cover the number of attendees you expect to invite, the dishes you want to serve or the number of staff you want to hire for the event.
2. Confirm Attendance & Food Allergies
The second step you need to take in organizing your soirée is to ask every member of your team if they will be able to attend and determine their food preferences (including any dietary restrictions) and food allergies. Some companies even have company policies that require dietary restrictions to be considered when serving food at work events. Smokin Bones corporate caterers can offer bbq catering menus that adhere to any and all of your employees' dietary requirements.
3. Decide on The Office Catering Services
Now that you know how many people will be attending and their dietary restrictions, it's time to start looking into office bbq catering services. This is where your budget comes in again - you need to find a caterer that has healthy and delicious food options and one that falls within your budget.
There are a few things you should keep in mind when looking for office catering services:
The type of event you're hosting (formal or casual?)
The number of people attending
The types of food everyone can eat (based on allergies and dietary restrictions)
Your budget
Once you have all of this information, you can start looking into different office catering companies in Toronto & nearby areas. Do some research online, read reviews, and look at catering menus to get an idea of what each corporate catering company offers. Once you've narrowed down your options, contact the remaining few companies and ask for quotes. From there, it's simply a matter of choosing the right bbq catering company in Toronto for your needs!
4. Book Your Date and Venue
Now that you know what style of BBQ you're having, it's time to pick a day and venue. Since a bbq is best done outside, look for a venue that offers a common outdoor space. When choosing your date, it's important to consider weather conditions and company availability. The last thing you want is for your event to be rained out or for half of your team to be out of town on vacation.
5. Create a Timeline & To-Do List
Now that you have all the big details figured out, it's time to start creating a timeline and to-do list for the days leading up to the event. This will ensure that everything runs smoothly on the day of and that nothing gets forgotten.
A few things you should include in your timeline:
Confirming final numbers with your caterer
Making a food shopping list
Organizing any rentals (tables, chairs, linens, etc.)
Coordinating with other departments (if applicable)
Delegating tasks to employees
And that's it! Just follow these five simple steps, and you'll have everything you need to throw a successful corporate barbeque. Keep in mind that it's always a good idea to book your corporate caterers well in advance so that you have plenty of time to plan everything else. And if you're ever feeling overwhelmed or don't know where to start, our team of corporate caterers is always here to help. Contact us today!