05
Oct
5 Reasons You Need a Pre-Made Turkey Dinner This Holiday Season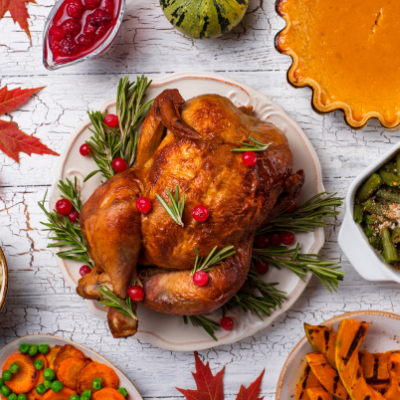 Thanksgiving and Christmas have created some of our favourite holidays memories - but they also come with the stress (and mess!) of creating an amazing holiday feast. Smokin' Bones corporate catering in Toronto can help make your celebration easier this year with fresh and classic pre-made turkey dinners for your family or corporate office party. Here's why you should skip the cooking and work with us instead!
The Food is Incredible
There's a reason we're putting this at the top of the list - at Smokin' Bones we've been perfecting our menu for years, and all those hours in the kitchen mean that our turkey dinners are perfect. No more dry meat or cold sides - a meal from our kitchen is moist, delicious, and incredibly satisfying.
It's More Affordable
Between buying the turkey and all the side-dish ingredients (let alone all the long hours in the kitchen!), working with a BBQ catering company in Toronto can actually cost you less than doing it all from scratch. With a range of menus to suit every budget and taste bud, working with us to cater your holiday meal this year can help you lower the impact on your wallet.
Spend More Time Where It Matters
The point of the holidays is to spend time with those that matter. When you're in charge of the food, that time can be stretched by dashing back and forth from the kitchen, pulling things in and out of the oven and stirring pots on the stove. Catering can help you get back to where you belong, laughing and catching up with your friends in the other room.
Please Every Taste
At Smokin' Bones we have a range of holiday menus that remind of us of our mom's kitchens, but also offer variety and interest for those tired of turkey. Meats like lemon and herb roasted chicken or baked holiday ham provide a delicious main for hungry guests, while apple and sage stuffing, Yukon Gold mashed potatoes, and honey glazed carrots round out the meal. With different and varied menus to choose from, you can be sure to whet the appetite of every guest at your table.
A Gourmet Meal Without The Stress!
We love flipping through a fancy cookbook as much as the next person, but we know not everyone's got the skills or kitchen tools to pull off a classy meal stress-free. This is where holiday catering steps in to guarantee a delicious gourmet food experience!
Work With Smokin' Bones This Holiday Season
Let our grilling, sautéing, and baking skills work for you! With plenty of other things to worry about this year, let us take care of the food for your Thanksgiving or holiday celebrations this season. Ordering corporate catering in Toronto for your holiday party results in incredible food at a reasonable price, letting you spend more time with your guests and enjoy a gourmet meal without the stress. For more information on our holiday corporate catering in Toronto, get in touch at 905-508-2665 for a quote.