05
May
4 Reasons to Order Office BBQ Catering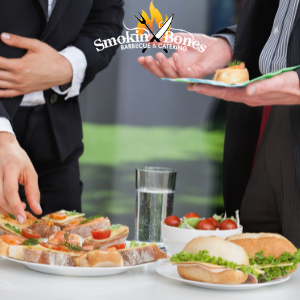 Everyone deserves to be treated to a catered lunch every once in a while, and employees are no exception. Everyone loves food, so it's pretty easy to please the masses when you're catering an event with office BBQ catering from Smokin Bones. Whether you're planning a large-scale catered lunch for your entire office or just require sandwich catering in Toronto to feed one department, let the experts at Smokin' Bones BBQ Catering be the hero of the office by providing a catered lunch for your employees.
The Benefits Of Treating Your Employees To BBQ Catering
These days, when it comes to employee appreciation, companies all over the world are striving to think outside the box. The office is an especially tricky place to do this, as bringing in a few donuts and handing out a few thank you cards doesn't usually cut it. Office BBQ Catering is a special way to get your employees engaged with one another and show them how much you appreciate them by providing delicious food and friendly faces to go along with it.
That's why so many companies are now opting for corporate BBQ catering. Here's why you should too:
Reason #1: Employee Morale Boost
Surveys show that one of the biggest factors affecting employee morale is the quality of food options that your company provides. No one wants to eat something that tastes like cardboard day in, day out.
Reason #2: Employee Productivity Boost
According to recent surveys by the Harvard Business Review and a study from Michigan State University, providing office staff with good quality food options can help increase their productivity by up to 30%.
Reason #3: It's A Great Team-Building Exercise
Whether your team is newly formed or has been working together for years, BBQ catering can provide the perfect opportunity for them to bond with one another. There's nothing quite like sharing a meal together to help people let their guard down and get to know each other on a personal level.
So there you have it! Three solid reasons why office BBQ catering is a great way to show your employees how much you appreciate them.
Why Choose Smokin Bones Catering Services
If you're looking for a meaningful way to show your appreciation for your staff, treat them to some BBQ catering from Smokin' Bones BBQ catering services. Our food is packed with flavour, which will make your employees feel appreciated and valued, and there's no better taste in the world than that of our tender smoked meats paired with our mouth-watering BBQ rub.
The best part is that we're ready and willing to cater your company lunches—all year round! It doesn't matter if it's the middle of summer or the dead of winter, we'll be there for you, ready and able to serve up fresh BBQ catering and some of the best sandwich catering in Toronto.
So if you're looking for a creative and delicious way to boost morale and productivity in your workplace, contact Smokin Bones BBQ Catering today.