24
Jul
The Best Backyard BBQ Party Menu
The real success of any event is measured by the food. If your guests love the food, you'll be hearing about it for weeks. Whether you're throwing a wedding or a small party, a backyard BBQ catering service from Smokin' Bones is destined to impress your guests and leave them with a positive experience. If you're planning a party, here are some tips to put together the perfect menu with your catering company in Toronto.
Food Restrictions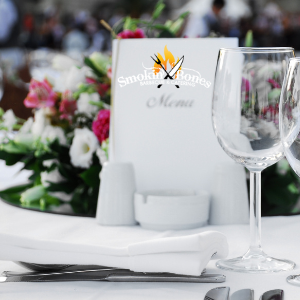 Before starting to plan your menu, a good jumping-off point is to get a feel for the food restrictions that affect the people on your guest list. This is important when working with a catering company in Toronto to ensure you have food options for every single guest. Common dietary restrictions include allergies ex. Peanut-free or shellfish allergy, religious restrictions, or personal lifestyle choices ex. vegetarianism or pescetarianism. At Smokin' Bones, we offer menu options that account for common dietary restrictions so you can confidently serve all your guests a great meal.
Serving Style
It is sometimes assumed that when working with backyard BBQ catering services, the dinner or meal portion of the event will be casual, but the reality is that you can have your meal served any way you like. But there are certain dishes that pair best with certain serving styles. Your typical serving options include buffet style, family style, and served. If you prefer your guests to eat when they see fit, buffet style is usually preferred, but when you have a set dinner time, a served menu is usually the go-to option.
Courses
The more courses you pack into your menu, the more options you'll be able to provide your guests and the more indulgent your event will be. Three courses, appetizer, main, and dessert, are usually the minimum number of courses offered at an event. But, from salad and soups to digestifs, you can add as many as you like.
When building a menu with a BBQ catering company in Toronto, you want to ensure you include some trusted comfort foods that everyone is bound to love, including mac and cheese, fries, and burgers. At Smokin' Bones, we provide pre-packaged options that you can choose from to best suit your event, including Wedding Packages, Corporate Event Packages, and more. If you prefer, you can hand pick an a la carte menu with all your favourites.
Cocktails & Drinks
No event is complete without beverages, so don't forget to put as much thought into your drinks and cocktails as the food portion of your menu. The Smokin' Bones team will work with you to design a specialty drink for your event or just through cocktail hour. If you're serving alcoholic beverages, you can combine that with mocktails (non-alcoholic cocktails)for the kids, designated drivers, and guests who don't drink with a fun alternative option.
Choosing the Best Catering Company in Toronto
Throwing an event can be stressful, but not with one of the top catering companies in the city. At Smokin' Bones, our team will help you develop your menu with easy-to-choose packages or custom options that are sure to leave your guests with a memorable experience.