17
May
The Secrets Behind The Popularity of BBQ Wedding Catering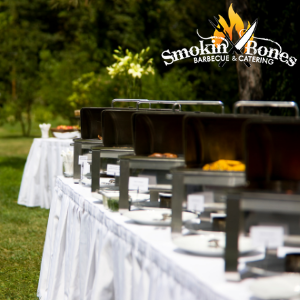 Over the course of 2020 and as we approach the wedding season of 2021, one trend has been steadily increasing in popularity, BBQ Wedding Catering. Today, everyone is looking for a way to make their wedding unique and enjoyable for all while staying within a predetermined budget.
The type of food you serve your guests is very important, as it is probably one of the few things your guests will remember long after the event. While there are many catering services in Toronto, Smokin' Bones can provide a fantastic BBQ-catered event that will bring excitement and a unique flair to your wedding reception.
Enjoy Delicious BBQ Flavors
Smokin' Bones catering menu offers a wide range of variety and new flavours that your guests are guaranteed to love. Over the years, we have perfected our BBQ Catering Services to execute a flawless catered event on your special day. We have curated menus to please all palates and included our personal favourites.
From pre-set wedding catering menus to themed cuisine menus, Smokin' Bones can create a wedding menu that features a little bit of everything and is guaranteed to appease any foodie.
This is your special day, and Smokin' Bones is here to make sure the food you serve is exceptional. If you want delicious food at great prices, you can't go wrong with hiring the Toronto catering services of Smokin' Bones.
Less Wedding Planning Stress
If you are reading this blog, you are probably in the middle of planning your wedding. So we do not need to tell you how stressful the experience can be. Sometimes, people try to cut costs by opting for the DIY option of making their own food for the reception. This can end up being much more of a hassle than it's worth.
Smoking Bones can offer full-service event prep and coordination services. We can plan out the decor, arrange for entertainment, provide lighting, set up your reception with tables, chairs, tableware and glassware. We can offer the usage of our highly trained servers and even provide Smart Serve Certified Bartenders for a full bar service during your special event.
If you are looking for wedding catering services in Toronto that go the extra mile, Smokin' Bones is your best choice.
A Menu With Options and Within Your Budget
Smokin Bones catering services are flexible. We can work with you to develop a menu with options for all your guests while staying within your budget. At Smokin Bones, we have various set menus as well as A La Carte Menu building options.
Are you a lover of melt-in-your-mouth roast beef brisket? If so, maybe the Ranchhand Round-Up Menu would be right for you. Plus, you can't go wrong with the crowd favourite, fire roast chicken. If you have a lot of meat lovers in attendance, this package might be just the solution for you.
Looking for a more casual affair with a classic BBQ menu? We suggest our Original Southern BBQ Menu. Your guests will fall in love with our famously tender, fall-of-the-bone baby back ribs! With plenty of traditional sides offered, your guests will say the food is "finger-lickin' good."
Or, maybe you are looking to find a happy middle between traditional and casual catering? Why not try our platinum package? With grilled salmon, oven-roasted potatoes and much more, this menu includes classic favourites with an upscale twist.
Wedding catering can quickly add up and be a big chunk of your wedding budget. If you want to find a way to cut costs while still planning an enjoyable wedding, BBQ wedding catering is an excellent choice. Whatever your budget, Smoking Bones can provide a menu full of delicious BBQ flavours that your guests will remember.
Choose Smokin Bones Toronto Catering Services
Catered weddings with a traditional sit-down affair can seem overdone and stuffy. BBQ catering can give a distinctive twist to your wedding. Plus, Smokin Bones' various catering menu options, there will be something for even the pickiest eaters.
Keep your reception fun, social, and memorable by hiring Smokin' Bones Wedding Catering Services. We are still offering our wedding catering services in Toronto and we would be delighted to take care of your wedding catering needs. If you would like to learn more about our food options, full-service catering packages, and pricing, please feel free to request a quote online or call us at 905-508-2665.