14
Sep
Tips for the Perfect End of Summer Barbecue with Caterers in Toronto
Nothing says summer quite like the smoke and flames of a grill, so what better way to close up the season and treat your employees or family than with barbeque catering in Toronto. With Smokin' Bones, leading caterers in Toronto, you can host the most exciting and indulgent end of summer BBQ. As the warm days wind down, it's the perfect time to gather outdoors, savor some mouthwatering BBQ dishes, and enjoy the company of loved ones.
To ensure your end-of-summer barbecue is a sizzling success, here are some tips to consider when working with caterers in Toronto who specialize in delicious barbeque catering.
Find the Perfect BBQ Venue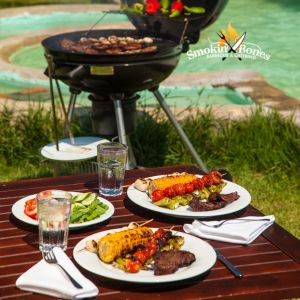 The first step in planning your end-of-summer BBQ is to choose the right venue. Naturally BBQs require space for guests to roam, eat, and enjoy the experience. Whether it's your backyard, a local park, or a rented event space, ensure that the location can accommodate your guests comfortably and has the necessary facilities for grilling and dining.
Plan for Inclement Weather
Toronto weather can be unpredictable, so it's smart to have a contingency plan in case of rain or unexpected weather conditions. Renting a tent or canopy can provide shelter for your guests, ensuring that the BBQ can go on, rain or shine.
Book a BBQ Caterer in Toronto
Finding the perfect barbecue caterers in Toronto is no simple feat. Barbecue catering is about more than just delicious meat and sides, it's an experience. When it comes to barbecue catering in Toronto, Smokin' Bones is a top choice throughout the GTA. Live on-site catering service ensures that your guests can savor freshly grilled BBQ dishes right before their eyes. From succulent ribs to juicy burgers and flavorful sides, Smokin' Bones will take your BBQ experience to the next level. Our team of experienced caterers provides options for a variety of dietary preferences and restrictions to ensure every attendee has an amazing experience.
Don't Forget the Sides
While the focus of your BBQ event may be on mouthwatering grilled meats, don't underestimate the importance of delicious sides. Consider classic BBQ sides like coleslaw, mac and cheese, salads, baked beans, and cornbread. These additions will complement your BBQ dishes and satisfy all tastes.
Add Games or Competitions
To level up the fun factor, incorporate games or competitions into your end-of-summer BBQ. Organize a friendly cornhole tournament, a tug-of-war contest, or even a BBQ cooking competition. These activities will keep your guests engaged and entertained throughout the day, encouraging socialization. Games and competitions are the perfect way to savour the last days of summer.
Capture the Memories of Your BBQ
Your barbecue is more than just a meal with the people you work with or the loved ones in your life. It's a celebration of the year past and the season to come, so don't forget to capture the memories of your end-of-summer BBQ. Set up a photo booth or designate a photographer to take candid shots of your guests enjoying the festivities. These photos will be cherished mementos of your memorable BBQ event.
Book the Leading Barbeque Caterers in Toronto
For all your barbecue event needs, trust the experienced and leading caterers in Toronto at Smokin' Bones. For years we've been providing high-quality BBQ catering across the Greater Toronto Area for everything from special events to office catering in Toronto.