11
Jul
Tips to Throwing Your Team a BBQ this Summer
Summer months are the perfect time to throw your team a BBQ, and catering is ideal for an office setting. With the many catering companies in Toronto, choosing the right barbecue catering company can be difficult. When ordering meals for your team members, you want to provide fresh, delicious food that everyone will love. Your employees are the core of your business and work hard every day, so it's the perfect time to show them your appreciation. Treat your team to office BBQ catering in Toronto with Smokin' Bones Barbecue and Catering!
Choosing a catering company doesn't need to be complicated - read on to learn tips on throwing your team a BBQ this summer.
Dietary Restrictions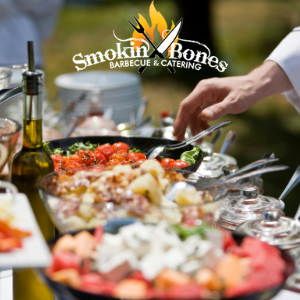 One of the most important things to do before choosing a catering company in Toronto is to get every team member's dietary restrictions written down to ensure everyone can eat. Some employees may be vegan, vegetarian, gluten-free, or allergic to certain foods, so it's crucial to ensure your employees fill out any allergies or food preferences beforehand. Ensure safety and satisfaction by asking your team if they have any dietary restrictions to guarantee a good experience for everyone. At Smokin' Bones, we offer carefully curated menus that cater to various dietary needs.
Well-Curated Menu
Choosing a menu can be tricky, especially when you don't know what every person likes, and it would be impossible to please all of your staff with one certain type of food. With office BBQ catering in Toronto, the best option is to have a menu with many available items such as fish, beef, chicken, veggie burgers, fries, salads, fruit and more. This makes sure everyone has a chance to choose what they prefer and can eat a flavourful meal during the workday. Smokin' Bones offers staff appreciation barbecues and company barbecue picnics which provide all sorts of food options that cater to all.
Thoughtful Timing
When it comes to planning your team's BBQ, timing is an important factor. We recommend you stick to the usual lunchtime so that workloads and work efficiency aren't disrupted. Take time out of the workday to enjoy a fresh, well-made meal that will leave you feeling content and energized throughout the day. Smokin' Bones offers services within the Greater Toronto and Hamilton Area, including 1 hour of set-up, 1 hour of food services, and 30 minutes of clean-up for the buffet and kitchen. Not to mention, disposable plates and cutlery are provided for your convenience.
Why Choose Smokin' Bones for Your Team BBQ this Summer?
Smokin' Bones is your top choice for catering services in Toronto. We provide not only fantastic food but exceptional services as well. Make your event memorable with music, event rentals or entertainment to compliment your perfect barbeque meal. We take pride in our team of skilled chefs that prepare and provide mouthwatering food at affordable prices. Now is the time to schedule a team BBQ that your employees will love and cherish.
Contact Smokin' Bones today to book a catered event you'll never forget!