06
Jul
Top BBQ Catering Ideas For your Office Grand Opening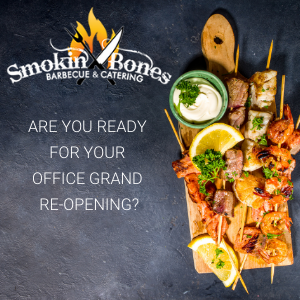 After over a year of Ontario in a lockdown, the time has finally come! With case numbers down, we are finally getting ready to open up Toronto office buildings and corporate businesses. For most of us, we are itching for the grand office reopening. What better way to say "Welcome Back" to your employees than with a corporate BBQ catering event?
Smokin Bones offers corporate catering services across Toronto and the GTA. We have been cooking up some great menu options in anticipation of your office's official reopening. If you want to treat your employees to some of the best BBQ catering available in Toronto, give us a call today!
Corporate BBQ Catered Events Are Fun For All
BBQ catering in Toronto has never been so popular and tasty, and for a good reason. BBQs are so fun to host and will indeed be enjoyed by your co-workers too. At Smokin Bones, we have years of experience working at corporate events. Our team can take care of the BBQ catering services, leaving you to make this office grand opening party a great team event. Include some corporate team-building event ideas to make it fun and competitive. For example, play a fun game of volleyball or badminton.
With Smokin' Bones BBQ catering services, the more, the merrier! Have your employees bring their children or spouse to make it a family event. This helps nurture relationships amongst the employees and builds a stronger bond within the business. Another idea is to have your BBQ catered party take place in front of your Toronto office building under your rooftop patio or on the veranda steps. This will help inspire creativity and show off some great views of the city skyline that will surely enhance any BBQ as the backdrop.
At Smokin Bones, we offer some of the best corporate BBQ catering services in Toronto. Get in touch with us today to learn more about our various menu options and event coordination services!
Give Your Employees Something To Look Forward To
Your employees work hard from home; show them you appreciate their hard work with a grand reopening party with BBQ catering provided by a local Toronto-based company like Smokin Bones. The anticipation of the coming corporate BBQ will give your employees something to look forward to. Consider our secret recipe for success - treat your employees to a scrumptious BBQ catering. The day will fly by as everyone enjoys delicious food, great company and fun times. No doubt your employees will appreciate taking a break from the office work and getting treated to some of the best BBQ Catering in Toronto!
Let's Make Your Office Grand Reopening A Hit
There are a lot of things that go into an office grand opening event. You want to ensure that you have corporate entertainment, decor, and food available for your employees. It's precisely why we're here to help you with all those services. We offer complete event coordination services through our sister company.
If you are interested in booking our BBQ Catering Services for your upcoming Toronto Office reopening party, get in touch with our team today!