26
May
Wedding Catering On A Budget: How To Save On Costs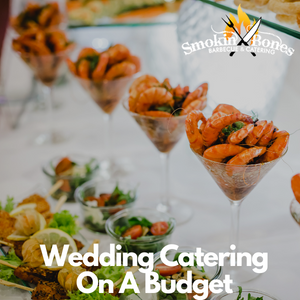 Wedding catering is a part of the planning experience that some brides find they are more than happy to leave to their caterer. After all, it is a difficult aspect of planning a wedding that, quite frankly, you may not have time for. When you choose the outdoor bbq catering services in Toronto from Smokin Bones, our caterers take care of finding the best deals for you when it comes time to choose your bbq catering menu and beverages.
You'll have all the time in the world to enjoy your day once it's over! But there are certain decisions that you should be able to make for yourself when it comes to finding the best wedding bbq catering in Toronto.
When you are planning a wedding, the last thing you want to worry about is money. But it's a good idea to create a budget with your partner and figure out how much the wedding will cost. The best way to handle wedding costs is to have a plan in place before the big day. Here are five budget-friendly tips for saving money at your wedding reception.
5 Top Ways To Save On Costs At Your Wedding
1. Many caterers will be more than happy to work with you to find the best deals on food, beverages and wedding cakes. When it comes to finding the best deals on catering, ask around for recommendations and compare prices before making your final decision.
2. If you have an outdoor reception, take advantage of the weather and save on costs by opting for outdoor BBQ catering in Toronto instead of a more formal sit-down meal.
3. When it comes to drinks, think about serving non-alcoholic options or offering a limited selection of beer and wine instead of a full bar. This can help you save big on your budget and the overall cost of your wedding bbq catering.
4. One way to really cut down on costs is to limit the number of guests you invite to your wedding. Keep your guest list small and intimate to save money across the board – from food and drink costs to invitations and favours.
5. Finally, don't forget to ask friends and family members if they'd be willing to lend a helping hand with some aspects of the wedding planning process, like decorating or set-up/clean-up duties on the day of the event itself. Chances are they'll be more than happy to help out!
Other Considerations To Cut Costs
There are a lot of hidden wedding expenses that people don't really think about until it's their turn to start planning the big day. Whether you're the bride, groom or a guest, there are ways to save on costs without sacrificing quality.
Here are a few more tips to help save you money on your wedding day:
If you're looking for ways to cut down on the cost of invitations, try making them yourself or opting for digital invitations that can be sent out via email or social media.
When it comes to flowers, choose in-season blooms that are locally grown - this will save you both money and time (no need to worry about importing flowers from far away).
Another way to reduce costs is by cutting down on your guest list. Consider inviting only close family and friends, and skip the +1s unless absolutely necessary. This will also help make your wedding day more intimate and special.
If you're set on having a specific type of food or drink at your reception, talk to your caterer about ways to find cheaper alternatives that still fit within your overall vision. For example, serve appetizers instead of a full meal, or offer a selection of wine and beer instead of open bar service.
If you are looking for affordable wedding bbq catering in Toronto, contact Smokin Bones today to discuss how we can assist you in making your special day one that you and your guests will not forget.