23
Sep
What To Look For In A Wedding Catering Company In Toronto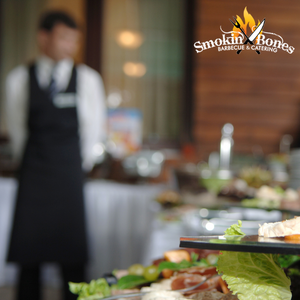 At Smokin Bones, we want your wedding day to be perfect. We know many brides stress about wedding catering services. In particular, brides worry about how the food will look, taste and whether or not it will be served hot. Enjoy one less thing to worry about as you plan your by day by hiring the best wedding catering company in Toronto, Smokin Bones.
Fantastic Wedding Catering Menu
Our gourmet BBQ wedding catering menu includes all the favourites, including steak, chicken, salmon, ribs, and BBQ pulled pork. We have a great selection of side dishes and vegetables to choose from. We also offer a variety of cuisines such as Indian, Italian and Greek. With Smokin Bones Wedding Catering Services In Toronto, you can choose from a wide range of delicious bbq and wedding food options that will cater to your taste and budget.
Event Wedding Catering Services In Toronto
Staff catering service is a way to make sure your event is held precisely how you want it. This private catering service also makes it easy for individuals to get what they want, whether that be having only the dishes, drinks, or venue they would like. You can even have staff cooking on-site or carrying out part of the meal selection process with fresh ingredients from the grocery store.
Affordable Wedding Catering Food & Drink Options
Selecting food and drink options is one of two basic steps required to create a menu for an event. The other step involves determining how much each dish will cost to make allowances when budgeting accordingly. While looking at price points should always happen last, deciding on quantities before placing final orders ensures there are enough disposable plates and utensils, all while avoiding any annoying oversights in advance!
Why Choose Smokin Bones Wedding Catering Services
We offer a wide variety of catering services to fit any budget. Our food is cooked fresh right on the spot, on our wood charcoal BBQ pits. This is what truly makes us stand out from the rest. Using only the highest quality ingredients and our special secret marinades and dry rubs on all of our fresh meat and poultry, we can guarantee that your guests will be delighted with the taste and presentation of every meal we serve.
You can always expect that we will work hard to make sure you're satisfied and that your guests leave with a smile on their faces.
Speak To A Wedding Catering Specialist Today
When you hire BBQ wedding catering services from Smokin Bones, you receive the great food you want, plus the expertise of our wedding catering team. Our BBQ wedding catering services start with a consultation. We don't push a menu on you or add in any hidden costs.
Our wedding packages are flexible and affordable. We believe that exceptional service is more important than a "one size fits all" menu. Contact our wedding catering specialists today to learn more about how we can help make your wedding day perfect