23
Jun
Why Backyard BBQ Catering is Cost-Effective
With summer upon us, now may be the ideal time to consider the cost-effectiveness of backyard BBQ catering services.
Backyard BBQ catering services have become an exciting alternative to catering services in Toronto that use a traditional kitchen. BBQ catering is great for events both indoors and outdoors, either in a church or even at home. You only need to find a good backyard BBQ catering service provider and a good bbq catering company in Toronto.
Corporate BBQ Catering Services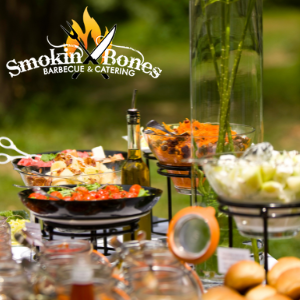 Company events and barbecue! That's what Smokin' Bones is all about. We began as a BBQ catering company but quickly figured out that we could offer a unique mix of corporate catering options to suit all kinds of culinary tastes and preferences.
Catering services in Toronto are the basis of our business. At Smokin' Bones, we offer a variety of options for barbeque catering in the Toronto area, including casual BBQ catering for backyard events, formal BBQ catering for corporate events, and full-service corporate BBQ catering for lunchtime, afternoon and evening functions.
Wedding BBQ Catering Services
The most popular choice this year for wedding catering is our backyard BBQ catering services in Toronto. Weddings are quite the affair nowadays and couples are looking for ways to cut costs but still enjoy their day with delicious food. Backyard BBQ catering services offer just that. Prices for traditional catering are quite high and if you want to save money, consider backyard BBQ catering services instead.
There are many benefits of using backyard catering services for your wedding, but one of its most important benefits is the cost savings. It offers much more affordable prices than traditional outdoor wedding caterers in Toronto.
Catering Services For All Occasions
Whether you are hosting a corporate event, wedding or backyard gathering, Smokin' Bones has the perfect catering solution for you. We offer barbeque catering services as well as basic boxed lunches and sandwich platters, making it easy to find a menu that suits your needs and budget.
Boxed Lunch Catering
We offer basic boxed lunches at a very affordable price with no minimum order requirement. This is ideal for catered lunch delivery services, tailored toward growing businesses that want to save money while still providing employees with a healthy, balanced menu.
Sandwich Platter Catering
If you are looking for something more simple, our sandwich platter catering is an affordable option that is perfect for any occasion. Whether you are feeding a large crowd or just want an easy way to serve lunch or snacks, our sandwich platters will make your event a hit.
There are many catering companies in Toronto, but not all of them are created equal. Whether you're planning a large-scale event or a small, intimate gathering, it can be difficult to know where to start or how to keep costs low. The catering services in Toronto offered by Smokin Bones Catering are a great way to deliver a successful event on a budget.
Contact us today to learn more about our catering options!