07
Nov
Why Cater Your Next Client Meeting in Toronto
Whether you're closing a deal or starting a new partnership, the main goal is typically success and productivity, but making a good impression beyond business and strategy is important. So, when hosting clients at your office, hospitality goes a long way. A good meal is a great way to welcome clients to your boardroom and keep them coming back. With professional office catering in Toronto you can easily serve warm and tasty lunches that impresses and engages your guests. At Smokin' Bones, our catering team offers high-quality office BBQ catering that will have your clients reaching for seconds.
Continue reading to learn why you should cater your next client meeting in Toronto.
Enhances Productivity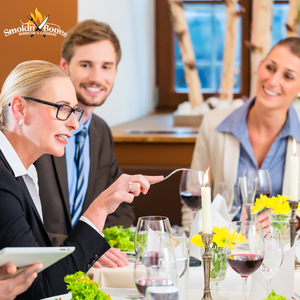 Extremely formal and professional atmospheres are not always the best way to be productive during conferences. Often, productivity levels get low when staff or clients become hungry or haven't eaten a nutritious meal that day, which can cause issues like poor performance or lack of concentration during the meeting. With food readily available, courtesy of BBQ Catering, you can deliver your presentations confident that hunger won't get in the way. To fuel creativity and generate higher energy levels, consider serving Smokin' Bones BBQ catering with vegetarian, vegan, kosher, dairy-free, and gluten-free options.
Easy Organization
Leveraging experienced services that provide office catering in Toronto alleviates time and resources spent organizing snacks and refreshments before the conference, leaving your team with one less thing to worry about. Providing a catered meal allows the discussion to flow much easier and will enable clients to focus on the presentation rather than what they're going to have for lunch. Bones, we deliver pre-portioned meals that are easy-to-distribute.
Impresses Clients
One of the most enticing reasons businesses use office catering in Toronto for meetings is to impress clients. Impressions are important, and for a client to respect and appreciate you, you'll want to leave a positive and long-lasting interaction that they'll remember. Office catering in Toronto permits you to thoroughly impress your clients by providing them with mouthwatering, healthy, and filling foods that will keep them energized throughout the day. High-quality catering services can help promote your business in the eyes of the clients and establish a good reputation from word of mouth. Your hospitality will definitely not go unnoticed, helping you in the future when making business deals or how others view your company.
Allows for Bonding
In North America, many of our social customs involve food, which makes for a heartwarming and fulfilling experience. Food is a universal experience that quickly brings people together, even complete strangers. With good-quality and delicious foods, you and your clients can bond over how excellent the food is. Smokin' Bones offers various meal options and packages such as burgers, fruit, salad, french fries, chicken, hot dogs, sandwiches, and much more. If you're looking to build better connections with your clients and employees, opting for office catering from Smokin' Bones is ideal.
Professional Office Catering in Toronto
When preparing for the next meeting with your client, consider hiring a professional catering company in Toronto to help with any worries or tension. For top-quality, homemade, and nutritional office catering, contact the professionals at Smokin' Bones.
Ready to plan your next client meeting in Toronto? Contact Smokin' Bones to get started.