17
Jul
Why Hosting Employee Appreciation Events Matter
When your employees work all year long, treating them to something special is a good idea. Many businesses opt for a team barbecue or lunch, where instead of worrying about deadlines and deliverables, employees can engage with their teams and even across departments and feel a sense of appreciation. With Smokin' Bones, a leading caterer in Toronto, you can put together a fantastic event that dazzles your employees. Go above and beyond office catering in Toronto with Smokin' Bones for annual employee appreciation events.
If you're not sure if an employee appreciation event is the right fit for your organization, read on.
Building Employee Morale through Appreciation Events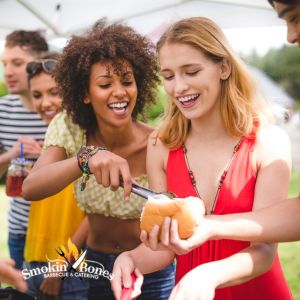 After a tough few years of restriction and bad news, people look forward to the socialization and camaraderie that their colleagues can offer. And nothing facilitates connection at work quite like the long-standing tradition of lunch. Building a comprehensive and extravagant employee appreciation event, complete with on-site BBQ, drop-off, or buffet office catering in Toronto, creates a positive and motivating work environment. It also serves as a great opportunity to recognize and celebrate employee achievements, ultimately enhancing job satisfaction and boosting the overall morale or happiness of your teams.
Strengthening Team Bonds and Collaboration
With busy days and dense schedules, it's easy for different departments to become siloed during work hours, limiting the ability for cross-team collaboration and communication. However, the ability for teams to engage with each other and work together is essential for a flourishing business, better creativity, and improved productivity. You can better foster a sense of community and teamwork at the office by centralizing all your employees in one venue for an employee appreciation event powered by leading caterers in Toronto at Smokin' Bones. By promoting positive relationships among colleagues, you will, in turn, encourage collaboration and communication across departments, eliminating harmful silos.
Boosting Employee Engagement and Performance
When employees feel good about the company they work for and feel like their contributions are being recognized by management, their loyalty and commitment to the organization are enhanced. Employee appreciation events and office catering in Toronto clearly indicate that you care about the individuals that work for you. By creating a sense of belonging and appreciation, these events enhance purpose in the workplace, increasing loyalty and commitment to the organization. Not only do these events support retention and minimize turnover, but they encourage better performance, from increased productivity to higher-quality work, which helps boost customer satisfaction while also enhancing innovation and creativity in the workplace.
How to Plan a Successful Employee Appreciation Event
Depending on the makeup of your team and the nature of your business, the perfect employee appreciation event will vary. Before you start putting together the specifics of the event, it helps to determine your goals for the day; then, you can put together an agenda that is aligned, from games and entertainment to awards. Arguably, the most essential part of the day is the meal.
Choose a trusted caterer in Toronto, like Smokin' Bones, to handle all your menu and catering needs. Our teams are experienced with events of all sizes and office catering in Toronto, enabling us to deliver a high level of service. Before contacting your catering company, put together a list of potential food restrictions, any special requests, and have an approximate guest count handy. When you choose Smokin' Bones, we'll be sure to blow you away with delicious flavours and prompt, professional service.