28
Apr
Why it's Worth Hiring a Caterer for BBQ Season
The onset of warm weather often indicates that barbeque season is upon us. Barbecue catering services in Toronto is a surefire way to please your guests. This season, consider hiring a service in Toronto to host your barbecue at home or the office. This makes the event a low-maintenance and stress-free affair. Choosing a recognized and quality provider of office catering in Toronto provides a better opportunity for everyone to focus on socializing and enjoying their meal. Smokin' Bones is one of the most popular catering companies in Toronto, specializing in delicious, high-quality barbecue for events of all sizes.
Barbecue Catering Services in Toronto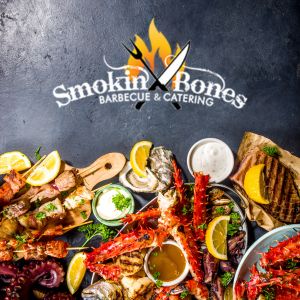 Although barbecues are often regarded as a casual affair that they can do themselves. A high-quality barbecue event requires work, skill, and planning and standing on your feet while preparing the main meal. ugh barbecues are often perceived as a casual and do-it-yourself affair, the reality is that they still require significant effort and planning.
Treating your team to a barbecue this summer might be worth considering, rather than having your employees put it on themselves. A catered event will allow for greater opportunity for employees to engage in team-building and socializing. Hiring a catering service in Toronto to host your next barbecue will enable everyone on your team to enjoy the meal and not have to stress about any of the details or do any work.
Barbecues are Versatile
Catering companies in Toronto like Somkin' Bones are well-equipped to offer inclusive menus that can accommodate various food restrictions. Barbecues can offer up vegan and vegetarian options as well. Our caterers can also make a few meals for a desired food accommodation rather than purchasing an entire package of a certain kind of protein or specialized product; a caterer can provide just the right amount to cater to the specific employees, thus lessening any chance of overspending and food waste.
Also, when businesses hire catering companies to prepare their meals, they can rest assured that food is properly prepared and cooked. Feeling assured that a corporate event's meal is thoroughly cooked and is guaranteed to taste delicious can be quite a relief.
Smokin' Bones is the Caterer of Choice in Toronto
Smokin' Bones has built a solid reputation for consistently providing high-quality mouthwatering food. They can provide serving staff and offer lunch boxes or buffets. Whatever setup you are looking for, or even if you aren't totally sure of the final details, Smokin' Bones can accommodate. They have diverse menus. Even though their barbecue is hugely popular in Toronto, they do offer other cuisines that they ensure are just as delectable as their barbecues.
Let the Smokin' Bones team set up, prepare, cook, and clean up for you this BBQ season. That way, all you and your team need to do is enjoy yourselves. They offer affordable prices that will be hard to beat considering the quality of the food prepared by their talented chefs.
If you want to indulge in summer barbecues for your team this summer, don't hesitate to contact leaders in the barbecue catering industry, Smokin' Bones, today.