25
May
Why Sandwich Catering is Perfect for Midday Meetings
The honourable sandwich often doesn't get the credit it deserves for being an excellent lunchtime option. Sandwich catering in Toronto is a gourmet feature and local catering can serve sandwiches far exceeding your regular peanut butter and jelly fare. When working with catering services in Toronto like Smokin' Bones, they will use quality bread and wraps, creative sauces and gourmet deli meats. Catered Sandwiches have evolved, and they are anything but boring.
Keep reading to learn why sandwich catering is perfect for midday meetings.
Sandwich Catering in Toronto is Functional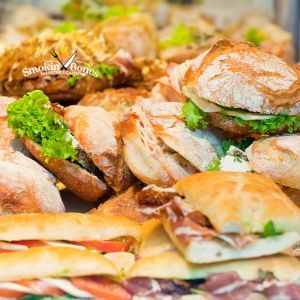 When hosting an office lunch, you want to keep the meal easy, light, and ideally, quick so everyone returns to work on schedule. Sandwiches are excellent for midday meetings because they are easy to eat and are not heavy, which is why many companies turn to sandwich catering in Toronto. Sandwiches also don't require a slew of utensils and different plating and are quite easy to serve and clean up after.
Sandwich platters are convenient for midday meetings, as there is something for everyone, and your team can help themselves to what they want to eat. You are still able to treat your team to a delicious meal while not disrupting the meeting for an extended period or interfering with productivity.
Sandwiches are also cost-effective for office lunch catering but don't compromise on providing your employees with a satisfying, delicious meal.
Decadent Sandwich Options
Caterers in Toronto offer a phenomenal range of sandwiches. You will find sandwiches that are vegan, vegetarian, and offered with meats. Some caterers, like Smokin' Bones, even have the option of providing lettuce wraps and all the fixings to enjoy a great breadless sandwich.
Smokin' Bones emphasizes the presentation of their sandwich platters, so not only are the sandwiches prepared to perfection with high-quality ingredients and careful preparation, but the result is a beautiful tray of sandwiches for your team to enjoy.
The options are endless, from hot sandwiches to wraps and deli options. The fillings are creative too like the Louisiana Pulled Roast Chicken from Smokin' Bones or their roasted vegetable, goat cheese, red pepper hummus, lettuce and tomato vegetarian sandwich.
The level of effort and creativity presented in the Smokin' Bones sandwich menu will surely be a treat for any office occasion in Toronto.
Accompanying Platters
You can order a variety of platters that go well with a sandwich platter. For instance, consider a cheese or roasted vegetable platter, or, consider a dessert or antipasto platter if you want to provide something more indulgent to your midday meal while still being reasonably easy to eat and quick.
If you want to keep your midday meeting lunch light, healthy and simple, you can opt for a fresh and colourful fruit platter.
Smokin' Bones Caters Excellent Sandwich Platters
If you prepare for a midday lunch, you'll definitely want to consider Smokin' Bone's wonderful sandwich platters. Smokin' Bones is a popular Toronto caterer, as they consistently deliver delicious meals made from the finest fresh ingredients.