17
Jan
Why Start the Year with Breakfast Office Catering in Toronto
When businesses consider organizing office catering in Toronto for their teams, the first thought often leans toward lunch catering. But, another great option for your organization and employees is breakfast catering. At Smokin' Bones, our caterers in Toronto offer reliable and nutritious breakfast office catering that you can schedule to regularly treat your staff this year that provides many benefits for your business and your team.
Read on to learn why you should opt for breakfast catering with the leading caterers in Toronto at Smokin' Bones.
Productive & Creative Thinking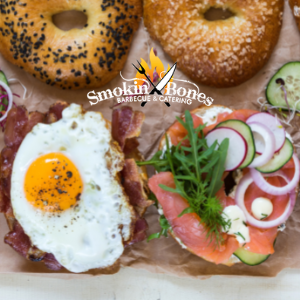 Whether your employees are taking care of their families or trying to maximize their sleep, busy mornings tend to leave people struggling to make time for breakfast. Notably, breakfast is considered the most important meal of the day, and when it's missed it can leave you feeling lethargic and less creative, impacting your ability to be productive throughout the day. With tasty breakfast options readily available at the office, your employees can come to work and grab a morning meal to fuel the rest of their day. You can trust our caterers in Toronto to drop off your favourite breakfast mains promptly to your office for convenient and delicious eats.
Team Building & Connection
Nothing brings people together quite like having a meal together. By leveraging office catering in Toronto with Smokin' Bones you are providing your teams with an additional opportunity to bond and connect. People have an easier time sharing aspects of their personality and letting their guard down over meals. So, breakfast office catering in Toronto, better enables your internal teams to relate to each other facilitating future collaboration and teamwork.
Save Time at Work
When people skip breakfast and don't prepare a snack for the office, by the time they reach work their hunger will likely catch up to them, leaving staff in search of a snack. Hunger can be a substantial distraction that takes focus and time away from daily tasks and projects. When you choose delicious breakfast menu options from Smokin' Bones with either prepackaged meals or loaded breakfast buffets, the members of your staff can quickly grab their favourite foods and find something delicious to satisfy their hunger.
Reduce Workplace Stress
With fast approaching deadlines, complicated projects, and incoming emails, stress at work can build up quickly. When individuals don't have the opportunity to eat breakfast they may opt for less healthy snacks that contribute to stress-inducing hormones. Replacing missed meals or unhealthy snacks with nutritious, well-balanced, and high-quality breakfast foods from the leading office catering teams at Smokin' Bones can help offset and reduce stress. By reaching out to local caterers in Toronto to provide meals to your teams, employees feel more appreciated by businesses which helps to reduce feelings of stress.
Choosing Breakfast Caterers in Toronto
When you invest in breakfast office catering in Toronto for your team, your employees will not only know you care, but they will also be better equipped to tackle their day and produce higher quality work.
To explore our healthy and versatile breakfast catering options at Smokin' Bones, contact us today.