Smokin Bones BBQ Corporate Catering Ideas For Your Summer Event
1. BBQ is #1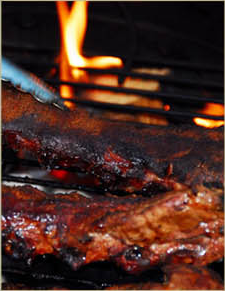 The best part about summers in the Greater Toronto Area is firing up the barbeque. It makes for a super fun summer gathering for all. There is always a huge selection of food available to cook on the grill. And theming your barbeque is a great idea, to keep it simple, tasty and efficient. At Smokin Bones the favourite choice is the original southern barbeque, where you can enjoy slow smoked barbeque ribs, pulled pork and chicken. With so many different barbeque themes to choose from, all of your guests will rave about your corporate catering party this summer.
2. Fresh Fruit
Picking the freshest of fruit is a great barbeque corporate catering idea this summer to finish off your yummy menu. Being summer, the best pick of the fruit is available, mouth-watering watermelon; fresh sweet berries, succulent peaches and so much more are available to prepare for your summer party. And fruit is a must for a healthy treat for all partygoers!
3. Sandwiches
Another great choice to add to your barbeque corporate catering menu is some savory sandwiches. With those on your guest list that have dietary restrictions, grilled vegetable wraps are an easy fix, and adding an assortment of deli meats that people can choose from is always a party pleaser. Other choices may include an egg salad, tomato and arugula sandwich, Louisiana pulled roast chicken salad, tuna with dill, tomato and arugula, turkey breast, Swiss cheese and cranberry mayo, black forest ham, cheddar and Dijon mustard and roasted vegetables, goat cheese, red pepper hummus, tomato and lettuce. Making specialty sandwiches as part of your barbeque menu is a great way to save in costs too!
4. Salads
The best way to begin the menu is to order up some healthy salads that will satisfy any picky palate. You have the choices of fresh cut vinaigrette coleslaw, organic mixed greens with the Smokin Bones signature balsamic dressing, caesar or spinach salad, three bean salad, traditional Greek, homemade potato salad, fresh pasta salad and much more! Order 1, 2 or all for a pleasing healthy starter to your summer barbeque party.
We hope you are now ready to plan your next party for your employees with all of these BBQ corporate catering ideas for this summer. We hope these tips have made is super easy for you to begin the planning process and for you also to be able to enjoy all of the above. Everyone on your guest list will leave your summer gathering feeling full, satisfied and ready for your next party!
Happy summer and plan your next BBQ corporate catering event with Smokin Bones BBQ Catering!