01
Apr
5 Reasons To Get BBQ Catering In Toronto For Your Next Event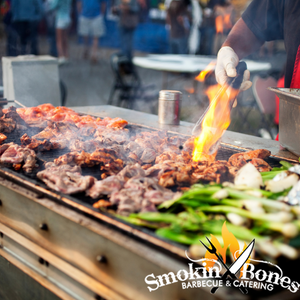 With the barbecue season beginning in Toronto, now is a great time to start thinking of BBQ catering in Toronto as an option for any event you are planning. Whether it is a backyard wedding celebration that requires wedding catering or a corporate function that needs ​​office catering for Toronto & nearby areas, with Smokin Bones', you can get the best food, drinks and service at prices that you will appreciate.
The following are five reasons you should consider hiring a barbecue catering company in Toronto.
1. BBQ Catering Menus Offer Something For Everyone
One of the most challenging tasks of organizing any event is menu selection. When you work with a BBQ catering company in Toronto like Smokin' Bones, you have access to a variety of bbq menu items that will appeal to all tastes. This means that you can easily accommodate different dietary needs and preferences, as well as different ages and cultural backgrounds.
No matter what kind of event you're throwing, there is a BBQ catering option that will fit perfectly. From low-key gatherings to large festivals, caterers can provide everything from appetizers to desserts.
2. Ease of Preparation
Unlike cooking at home, preparing food for an event doesn't require a lot of advance planning when you go with BBQ catering in Toronto. Most catering companies in Toronto have menus that are easy to follow and serve.
3. Plenty of Choices
With so many different companies to choose from for office catering in Toronto & nearby areas, it's easy to find a catering company in Toronto that can perfectly fulfill every need for your event. A good BBQ catering service will offer a wide variety of dishes, ensuring that everyone can find something they like. Want to add a personal touch to your event? Smokin Bones BBQ catering services can customize plates to reflect your preferences.
4. Affordable Prices
Contrary to popular belief, BBQ catering in Toronto doesn't have to break the bank. In fact, many caterers offer competitive rates that will fit within your budget. Whether you're looking for something small and intimate or something large and extravagant, there will be a BBQ catering option that meets your needs. Check out the Smokin Bones Sandwich platters menu!
5. Set The Theme With BBQ Catering In Toronto
Whether it be a summer wedding or dinner party, your theme can be easily set with BBQ catering menus, and guests will be ready to enjoy themselves. Smokin Bones barbecue catering services are ready to take your event's theme to the next level with their delicious food and services.
A barbecue catering company in Toronto, like Smokin Bones, will provide you with a custom menu that is sure to please your guests. Your guests are sure to come back for seconds of our mouth-watering dishes. Customize your menu based on the preferences of your guests. Everyone knows how complex planning an event can be, but you are sure to have a memorable event with a barbecue catering service!
Final Word
If you're looking to hire a BBQ catering company for your next event, look no further than Smokin' Bones BBQ Catering. Smokin' Bones is a full-service BBQ catering company that will help you plan your lunch, dinner or party in a way that meets your individual tastes, needs and desires. We aim to provide top-notch service in the areas of event planning, service and presentation and will ensure that your event goes smoothly with our years of experience. Contact us today for more information or a quote on our catering services in Toronto.