12
Nov
DeStress This Christmas With Catered Turkey Dinner Delivery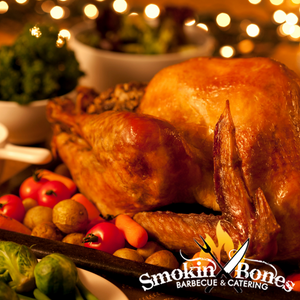 At Smokin' Bones, we love the holiday season! For many, the holidays can be a hectic time, and that is where our Toronto Catering Services can help! As one of the best BBQ Catering Companies in Toronto, we are delighted to offer pre-cooked Turkey dinner delivery to those living in Toronto and surrounding areas.
Stay Calm And Contact Smokin' Bones
This Christmas, don't worry about the turkey. Hire our Catering Services, alleviate your stress and let our experienced team take care of the food for your Christmas Dinner party. All you have to do is enjoy the company of your friends and family on Christmas eve or day, and we can take care of the rest! With our catered turkey dinner delivery, you can have a delicious roasted Turkey & side dishes delivered to your door. Our Catered Turkey Dinner Delivery in Toronto is a great simple solution for those who want a hassle-free holiday.
Perfect For Families On The Go
For families on the go during the holidays, it can be challenging to find time to make a home-cooked meal, especially when many of us are doing our own last-minute shopping for Christmas presents! With our Holiday Turkey Dinner delivery service, you can simply call, place your order, and have a fully cooked Thanksgiving dinner delivered to you - ready-to-go and be enjoyed by your whole family!
Restaurant Quality Turkey Dinner Catering
At Smokin Bones, we believe that quality should never be compromised. We pride ourselves on bringing the highest quality to our customer's food and catering services. Canned veggies and dried-out stuffing are so generic and unappetizing. And that is why we use only top-quality ingredients!
Truly The Best Catering Services In Toronto
What makes us really different from other BBQ catering companies in Toronto is our homemade cooking style. We only serve delicious home-cooked meals at affordable prices.
To make sure your family gets a delicious Christmas turkey dinner, we start preparing the day before the big day. We cook all of our holiday meals on-site with fresh ingredients. There is no frozen turkey here! Our tradition of preparing homemade meals starts at home with our family, and this tradition lives on as we deliver you the tastiest Christmas Turkey Dinners in the Greater Toronto Area.
Benefits Of Getting Turkey Dinner Delivered In Toronto
Christmas is a very busy time for many households. Shopping, planning and preparation can quickly add up. Sometimes it's just nice to have a break from the hustle and bustle of it all and hire the Catering Services In Toronto of Smokin' Bones to cater your Christmas dinner.
No Busy Grocery Stores
Avoid busy grocery stores and traffic jams by getting your Christmas dinner catered! No one wants to fight over the last frozen turkey on Christmas Eve morning. Have your delicious, home-cooked turkey dinner delivered right to your door with the help of Smokin' Bones!
No Need To Spend Time Cooking
When it comes to Christmas, whether you are hosting your family at home or travelling to visit relatives, you are bound to need to spend time cooking, baking and preparing for the holiday meal. If you want to enjoy the holiday with your family and friends and not spend it in the kitchen cooking for hours the night before, contact Smokin Bones About Their Turkey Dinner Delivery Catering Services in Toronto!
Make Memories Not Messes
There's nothing worse than having to spend your entire Christmas day cleaning up after cooking your turkey dinner. Our catered dinner can simply be put in the trash, so you can enjoy your food and company without stress.
The Final Word
This Christmas, let's make sure your dinner is as stress-free as possible. We'll be there with you every step of the way.
Many people are often under the misconception that Christmas dinner takes up all of their time, but it doesn't have to be that way. If you live in the Greater Toronto Area and want a delicious ready-to-go Turkey dinner for this year's Christmas, then reach out to us today!