25
Jan
Explore 3 Catering Options for Your Office Meetings
Business meetings are an integral part of the workday. However, business meetings are sometimes lengthy and met with less than enthusiastic guests, especially if there are lackluster food choices. Choosing and hiring a versatile catering company will help make your business meetings stand out from the rest. Look no further than Smokin' Bones for trusted and creative caterers in Toronto. Smokin' Bones is one of the best catering companies in Toronto, providing you with many choices best suited for your business meetings.
From boxed office lunches to buffets and platters, keep reading to know more about the meal options you have for catering your next meeting.
Benefits of Buffet Catering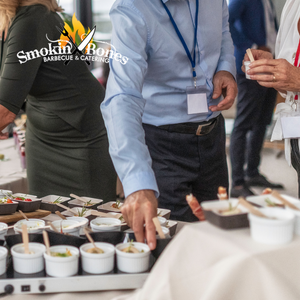 Providing the attendees of a business meeting with buffet catering is an excellent way to add variety, allow guests to mingle, and accommodate any dietary restrictions. Hiring professional and reliable catering companies in Toronto leaves your guests with a good impression and a positive feeling that encourages positive business relationships. There are many food choices, such as entree choices, salads, sides, and desserts. With more variety, there will always be something that someone likes, and options will always fit into everyone's diet. In addition, a buffet option usually costs less than a sit-down, plated meal, which is an important factor to consider when hosting business meetings.
Benefits of Sandwich Platters
Sandwich platters are another excellent option to have at your next team meeting. From a budget perspective, sandwich platters are a cost-effective way to cater your meetings. Ingredients needed for sandwich platters tend to be inexpensive, even while meeting all dietary restrictions and everyones' taste. Sandwich platters also include a shorter preparation time, especially compared to plated meals or buffets. As a result, there's less labour involved, which will also help reduce the final cost. From an attendee's perspective, sandwich platters are easy to grab with lots of variety. You can choose from cold sandwiches, wraps, gourmet sandwiches, vegetarian, vegan, or gluten-free options, ensuring everyone is satisfied. For flavourful and healthy sandwich platters, Smokin' Bones are your go-to caterers in Toronto.
Office Lunch Boxes
Office lunch boxes are easy to serve, pre-packaged individual meals, all suited to everyone's wants and needs. Boxed office lunches allow people to make their own choices, so happiness and satisfaction with their food are guaranteed. With office lunch boxes, you won't need to worry about creating a menu that adheres to everyone's palette and diet — picking the meal is up to the individual. Aside from meeting individual tastes and preferences, office lunch boxes are a sustainable, less-wasteful option. Since every meal is individually portioned, there will be less food waste at the end of the day.
Tips for Catering Your Next Meeting
When it comes to catering your next business meeting, it's essential to do your due diligence, especially when it comes to dietary restrictions. If you know you have a lengthy meeting that requires catering, you should know a few things in advance. For instance, know how many people are attending and any possible dietary restrictions that need to be met. Once decided, it's time to choose a menu and order in advance. For healthy and flavourful lunches and reliable office caterers in Toronto, check out Smokin' Bones..