11
May
The Perfect Full Service Toronto Wedding Catering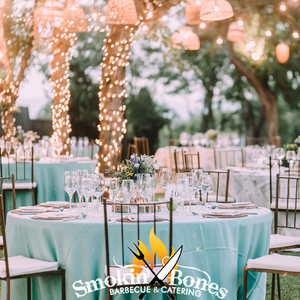 The idea of having your wedding catered can put a lot of pressure on you. After all, it's one of the most important days of your life, and the last thing you want to worry about is if you have booked a high-quality wedding catering company. Fortunately, if you're getting married in Toronto, Smokin' Bones BBQ Catering services in Toronto are here to take some of that pressure away.
Why Choose Smokin' Bones
The most important day of your life deserves the best wedding catering in Toronto. And at Smokin' Bones BBQ Catering, we think we can help make it that way. Our Toronto catering company specializes in making your wedding day perfect.
Smokin' Bones BBQ Catering has over a decade of experience in the industry, catering for weddings of all sizes. No matter what kind of wedding you're planning, you can rest easy knowing that we'll take care of every detail.
We know that the food is a big deal at your wedding. It can set the tone for your entire celebration, from the first bite to the last glass of champagne. That's why we work diligently with our clients to create menus that meet their exact tastes and needs, whether you're planning an intimate affair or a large party for hundreds of people.
We have many more reasons to hire Smokin' Bones BBQ Catering services in Toronto for your wedding!
We Provide Delicious Food
We believe that catering should be more than just a service – it should be an art. That's why we use the highest-quality ingredients possible, sourced locally whenever possible.
When you hire Smokin' Bones BBQ Catering, you can be confident that you're getting delicious food that will make your wedding guests happy. We understand that the quality of the food is important to you, and we go above and beyond to make sure that everything we serve is tasty and fresh.
We Have a Lot of Experience
In addition to using only the best ingredients, we also have a lot of experience in catering weddings. We've been in business for over a decade, and during that time, we've catered for all sorts of weddings. No matter what your plans are for your big day, we can help make them happen.
We Take Care of Everything
One of the best parts about hiring Smokin' Bones BBQ Catering is that we'll take care of everything for you. We know how stressful weddings can be, and we want to do whatever we can to make things easier for you. When you hire us, you won't have to worry about a thing – except having a great time at your own wedding!
What To Expect From Your Wedding Caterer
You've picked the date and booked the venue, so now it's time to hire the best BBQ catering service in Toronto for your big day to ensure that everything runs smoothly. As a full-service catering provider, Smokin' Bones BBQ Catering Services can plan, organize, and cater your wedding from start to finish.
We offer a complete range of services, including custom event planning, delicious BBQ catering, expert service staff, and customized menus. Here is a breakdown of the four services you can expect from us as your wedding caterer:
Expert Planning & Organization of the Event: Our professional event planners will meet with you to customize the menu, seating arrangements, and schedule of events. We'll work seamlessly with your other vendors to ensure that everything goes off without a hitch.
Wait Staff: Our team of professional and courteous wait staff will ensure that your guests are well-taken care of throughout the event. They will be there to serve food and drinks, clear plates, and answer any questions your guests may have.
Customized Menu: We understand that every wedding is unique, so we offer a variety of delicious BBQ catering options that can be customized to suit your specific needs. We've got something for everyone, from Texas-style brisket to Carolina pulled pork.
Affordable Pricing: We believe that great food doesn't have to be expensive. Our flexible menu options and competitive pricing make it easy to find a catering package that fits your budget.
Place Setting and Rentals: As a full-service wedding catering company in Toronto, we can supply you with seating and tables to rent for your big day. Our expert team will ensure the linens and chairs are set up properly and that the table setting is done precisely as you'd like. And then, of course, your guests will sit down to enjoy their catered meal that has been cooked to perfection by the professionals at Smokin' Bones BBQ Catering.
Full-Service Toronto Wedding Catering
If you're looking for professional, full-service catering services in Toronto for your wedding, look no further than Smokin' Bones BBQ Catering Services. Our wedding catering offers a wide range of services to make your big day everything you've dreamed of, including expert event planning, delicious BBQ catering, courteous wait staff, and affordable pricing.
For more information about our wedding catering services in Toronto, please contact us today!